Despite not having a shot at the title, already in the hands of Cameron Beaubier, Toni Elias wants to finish out the season with more individual wins than his Yamaha riding rival who – for the time being – is holding steady at 8, tied today by the Suzuki riding Spaniard.
The number 1 rider raced hard and proud in Alabama on a sunny day at Barber Motosport Park, a technical track, where passing is anything but easy.
While attempting to maintain the pace of the leading trio, Beaubier went down on a fast "S" turn, taking a nasty tumble. This left the battle to Elias, Herrin and Scholtz, who finished precisely in that order.
Toni admitted to what his new goal is: "My mind is on second position in the championship - the Suzuki rider said in the media center - but my goal when I arrive here is win more races than Cameron (Beaubier). Tomorrow let's try to finish this championship if it's possible with another win." For Elias, the outgoing champion, this is his twenty-fourth first place in the U.S.A.
Standing tall on the second step of the podium was Josh Herrin, riding a good race with his team Attack R1, once again playing a key role.
Also astride a Yamaha, this time operated by team Westby, South African rider Mathew Scholtz finished third after a thrilling duel with the Georgian.
In the next-to-last appearance of a long and brilliant career, Roger Lee Hayden finished fourth with his factory Suzuki, just ahead of his hypothetical heir, Jake Lewis, both Kentucky boys.
Also in the top ten were a BMW, with Danny Eslick, and the two factory Honda machines ridden by Bobby Fong and Cameron Petersen. David Anthony's Kawasaki finished in eleventh place ahead of Geoff May, former World Superbike rider with team Hero EBR. 
There was an incredible Supersport result with JD Beach not winning this time, leaving the honors to Hayden Gillim on his Yamaha. The interesting thing is that Hayden is a cousin of the famous Kentucky Hayden family, hence the name. His R6 finished ahead of the one ridden by the newly crowned champ, with Valentine Debise rounding out the podium on his Suzuki GSX-R.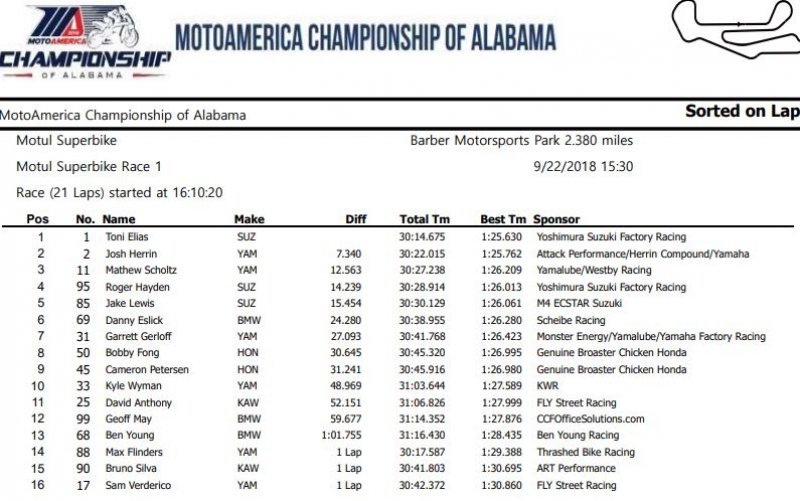 Share