Attendance was high in California - record ticket sales and a local carnival - awaiting the response of Toni Elias who instead had to lay down his arms before direct rival Cameron Beaubier, looking good on one of his favorite tracks, difficult, technical and spectacular.
The team Monster Yamaha number 6 rider battled with the Spaniard in the opening laps, but then he pulled the pin and got away at the front, taking advantage of a few mistakes by Elias, at the limit with his Yoshimura Suzuki GSX-R. The Californian's R1 looked like it was riding on a rail and when the checkered flag came out, he had built up an advantage of more than six seconds.
This is Beaubier's seventh 2018 MotoAmerica win, making him the brightest start in the American sky. We do not know if Cameron will move on to other beaches during his career, because at home he wins, has fun and earns a ton of money: "It really was a perfect weekend - the victor celebrated- We were able to lead every session and win both races. I knew I needed just to get out front and put my head down and just try to run with it, and we were able to do it."
There are three rounds left and 150 points up for grabs. Beaubier boasts 63 more points than Elias and the games are still open, despite the fact that the numbers lean clearly toward Yamaha, with Beaubier already reaching out to touch his third wreath.
The number 1 Suzuki defending champion finished the race second once again: "I gave it all I have - Toni revealed - Of course, it's not what we want, but we are still at a very high level. Today was a little bit better than yesterday and we'll try again next time."
Not very satisfied (in fact, visibly upset) with his third place, Josh Herring remains one of the best American riders on the track. A man of few words in press conferences and a great desire to finish on the top step of the podium, Josh will try again with his team Attack R1, not only a name, but a promise.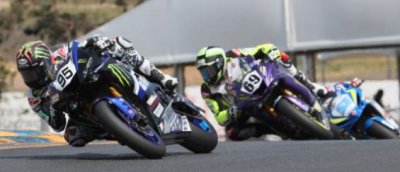 Texan Garrett Gerloff once again was not on the podium and nor was South African Mathew Scholtz. Jake Lewis and Roger Lee Hayden finished ahead of Danny Eslick's BMW, with Jason Uribe tenth on his Hondaand Bruno Silva was tenth astride his ZX10-RR.
Rider Standings: Beaubier 298, Elias 235, Herrin 187.
In Supersport 600, the two races on as many days were almost identical: JD Beach, Valentine Debise and Hayden Gillim were the riders on the podium Saturday, while JD Beach, Valentine Debise and Hayden Gillim were on the Sunday podium. JD Beach and his R6 are obviously in charge in the championship with 265 points - 100 more than Gillim - and Debise has racked up 125 on his Suzuki.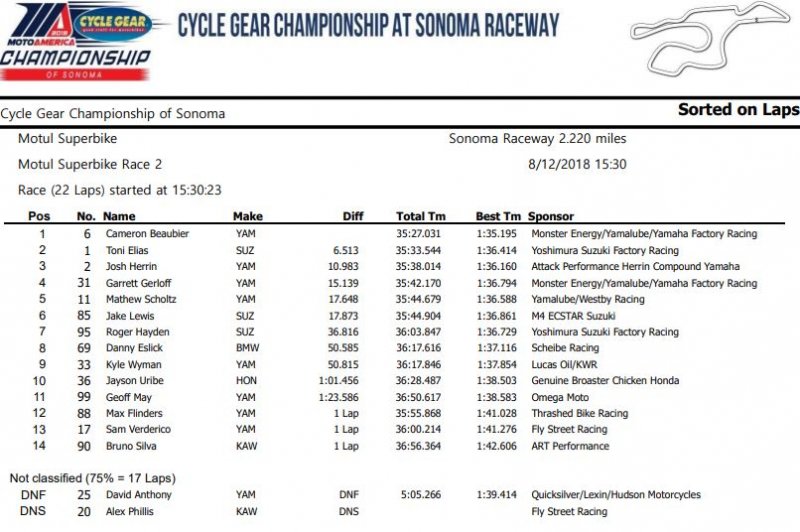 Share