It was once again Honda versus Ducati. But this year's stars differed from those of last year. It wasn't Andrea Dovizioso to rule the roost at the Ring, but rather Jorge Lorenzo, who rose to the challenge and battled long and hard with Marc Marquez. The tyres let Dovi down at the critical moment, leaving room for #99.  A thrilling head to head ensued between the Majorcan and his future team-mate, in a Grand Prix that was not for the faint-hearted.
Despite the #93 taking the lead in the early stages, exploiting the hard tyre, he soon found himself having to deal with his fellow countryman who, ten laps from the end of the race, really upped the ante, confident with his soft tyre. The Ring lit up and the two fighters really battled it out, with on the limit braking, attacks and counter-attacks. Meanwhile, Dovizioso was left dealing with the medium tyre, which left him in the role of specator.
Lorenzo really showed what he was made of in the head to head, perhaps more so than ever before, refusing to back down and pipping his Honda rival to the post. Austria remains a Ducati track then, for the third consecutive year, thanks to the Majorcan: "I didn't think Marc would be so quick at the start – said #99 – then I went on the attack, knowing he'd respond. He was very strong in braking, but on the last lap he didn't expect me to use the outside line at turn 2 to get past him. One of my best wins in MotoGP".
Lorenzo is smiling, while Dovizioso is left licking his wounds as a result of this wasted opportunity: "unfortunately I didn't ride as I'd hoped to, the tyres were done by the end. During the race, i tried to get past Jorge, but it was impossible, also because I was struggling in braking. I'm disappointed because I wanted to win".   
Sandwiched between the GP18s, the Honda of Marc Marquez: "I gave it all I had, I thought I had a good margin, but the tyre dropped and Jorge was able to close the gap. I'm pleased anyway because I've increased my championship lead". The six-time champ may not have won, but he now holds a 59-point advantage over Valentino Rossi, his closest rival in the standings.
The Doctor played catch-up today, starting from 14th on the grid but setting out with the bit between his teeth to finish in final sixth place behind Danilo Petrucci. The nine-time champion couldn't do more with a Yamaha that struggles at what is one of its worst tracks. Rossi's M1 was nevertheless the first Yamaha across the line, with Zarco forced to settle for ninth, Vinales twelfth.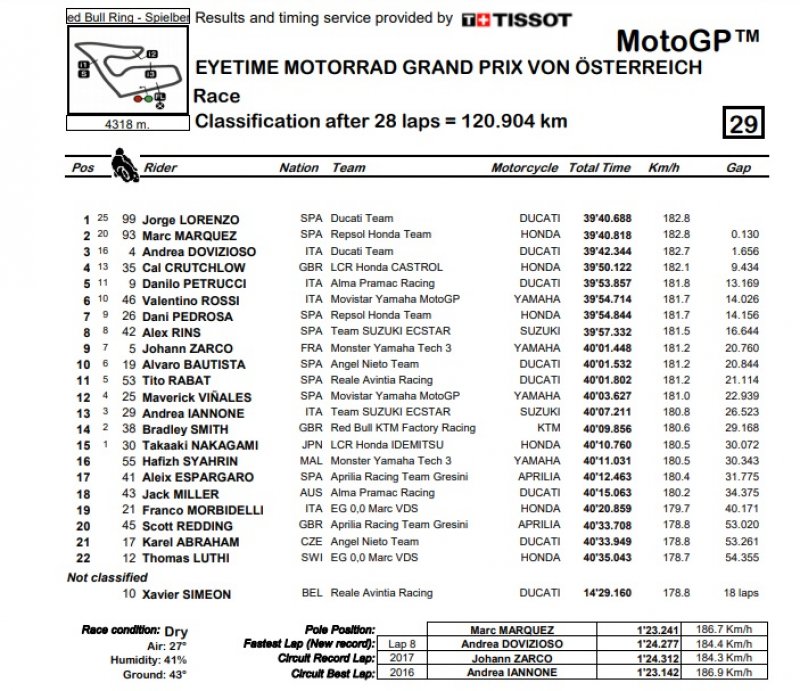 Share