The green hills that surround the Red Bull Ring welcome the MotoGP circus with the traditional Thursday press conference marking the start of the race weekend. Championship leader Marc Marquez was the first to speak. "We start the weekend with the aim to win, but we'll see how things go and particularly how the Ducatis are, as they seem the most dangerous at this track. Last year we came here with a few more doubts, while this year things seem clearer. The last corner? I hope I can be ahead this time ( he laughs), but if it's not possible I'll take what I can".
The last time the Spanish exited pit lane at the Austrian track he was driving the Red Bull F1 car, while his last time out on the bike was at last week's Brno test.
"In free practice I need to find those bike braking points again. The F1 was a fantastic experience, you brake fifty metres before the corner while with the bikes it's double that. We tried many things during the test, some of which we'll introduce here, but we'll take things step by step so as not to lose the way".
At the end of the conference, there were a few questions from fans on social media. Riders were given a piece of paper and asked to draw their ideal track Marquez got into the game. "My favourite track is like this, only left-hand turns and really slippery!".
Another interesting proposal was Jorge Lorenzo's, who drew two different tracks in light of his upcoming move next year;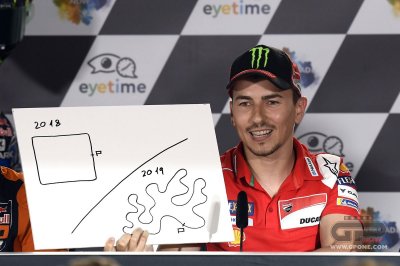 one square-shaped track for this season, and another curvy one for next year. "For this year I'd like a track with on the limit braking, acceleration and high speed. For next year a track like Sachesenring, all turns".
One man who took inspiration from actual tracks was Valentino Rossi, as analytical as ever. "The first part is like Montmelò, then we have the Casanova Savelli and arrabbiata uno of Mugello, the best part. Then a section inspired by Philip Island, particularly the fast part after turn 6, then at the end I've added an S bend but I don't why. Only ten turns, so it's a little short I know".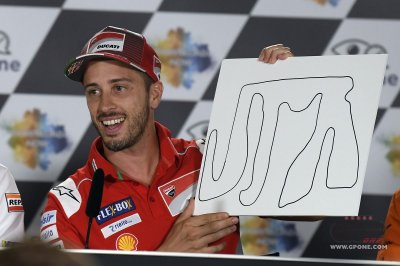 Andrea Dovizioso went for length: "It's about 20 km long (he laughs)", while Bradley Smith used his imagination: "I've done two without thinking about real tracks, I just went free hand."
Share