In just a matter of hours, the bikes will be back on the track in California, home to Cameron Beaubier who took his first steps into competition in that area astride a racing bike.
In addition to the Laguna Seca circuit, the track that will host the seventh MotoAmerica 2018 round is one of the favorites of the ranking leader: demanding, selective, dangerous in some spots, Sonoma offers - to those who would risk - the chance to express riding skills with incredible places to pass and the show is always guaranteed for the crowds as Scott Russell attests, and he is one who knows a little something about heated duels.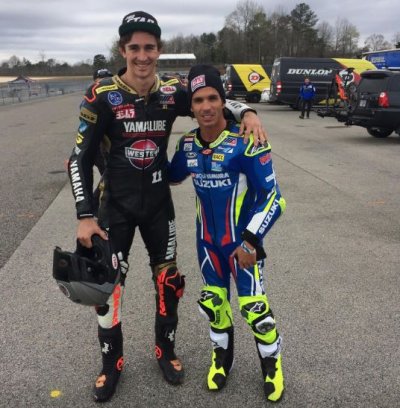 Last year, the factory Yamaha team rider achieved a peremptory double win which was nevertheless not enough to beat Toni Elias and his Suzuki in the final rankings. There are still plenty of points up for grabs and, with 4 weekends and 8 races left to ride, the battle for the title is just getting heated up for this 2018 season. The Californian has a 48-point advantage over the Spaniard, although Cameron is not letting his guard down: "First of all, I am surprised at the results earned in Utah - he revealed - always a hard track for me, but thanks to the team, we did well. Now we are headed to Sonoma, a track that I love, where I have won often and where I want to repeat the performance and clinch the title."
Got it, Toni Elias? If you want to win the American championship again, you will first of all have to beat the two-time champion on his home track: "I'll do my best to complicate life for him" Toni said when the engines stopped at Miller. Otherwise, from Pittsburgh all the way to Alabama, the Spaniard will also be forced to fend off the attacks of Mathew Scholtz, the lanky South African (especially alongside Elias who is anything but tall), already a race winner this year with his team Westby gold and black R1 (or black and gold, whichever you prefer).
Josh Herrin and Garrett Gerloff are two riders who are definitely capable of being on the podium in every round. They have hit everything but the bulls eye, which could arrive soon. Also keep an eye on Jake Lewis, a promising young man from Kentucky, Kyle Wyman and Danny Eslick: although younger than him, they are ahead of Roger Lee Hayden in the standings, and he has already announced his retirement. For him, the many crashes of this year have made the remaining races very important in order to leave a good memory for his fans and the racing world in general.
Share