In spite of the fact that there are still four rounds left to go for a total of 8 races, Roger Lee Hayden decided to publicly announce his retirement from racing after about 20 years of professional motorsports competitions.
Younger brother to Tommy and the late Nicky, Roger Lee is still busy in MotoAmerica with team Yoshimura Suzuki, official emissaries of the Hamamatsu-based manufacturer in California out of Chino, where the GSX-R machines are prepared that are ridden by the American and Spaniard Toni Elias, defending champion.
Roger comes from a family of motorcycle racers, raised and reared well by their mother Rose and father Earl. The latter has closely followed the careers of all the children, including daughters Kathleen and Jenny.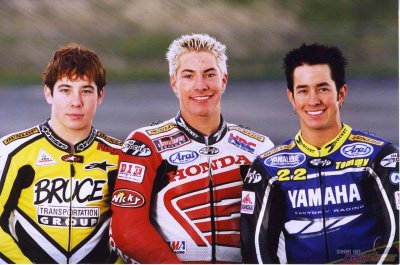 From a very young age, Roger trained on the dirt track across from his house, developing great drifting skills and often the youngster gave his more expert brothers Tommy and Nicky a run for their money. The unmistakable characteristic of the three boys from Owensboro is their beaming smiles, the true image of the Kentucky Kid, 2006 MotoGP world champion.
A dirt track début was inevitable for Roger, and it came while he was still in school, alternating between books and bikes. The peak of his dirt track career was in 2002, when all three Hayden brothers finished on the podium in the Springfield TT AMA Grand National, a highly popular specialty in the United States. 
On the asphalt, Roger also performed more than respectably. Of the many races he rode, Hayden was named Rookie of the Year in the 2006 Superbike class and the following year he also won the Supersport title astride his Kawasaki Ninja. He has had two wild cards in MotoGP - 2007 and 2010 - both without points, an appearance in Moto2 and a full season in Superbike with team Kawasaki Pedercini.
For many seasons he has worn Suzuki colors. In 2017, Roger was runner-up MotoAmerica champion, bringing home 3 wins and 7 superpoles. It is precisely with Suzuki that the thirty-five-year-old rider from Kentucky wants to end his career before hanging up his leathers: "This is not something I've decided lightly - Roger revealed - I've been thinking about this for a while. I've been going to races on the weekends since I was nine and I just thought it was the right time to move on to the next chapter in my life. I want to spend more time with my wife and maybe do some traveling and start a family at some point soon."
Family, a fundamental value for the Hayden dynasty: "Yoshimura and Suzuki have felt like a family to me - Roger continued - Don (Sakakura) and Pat (Alexander) are more like friends to me than a boss. We talk about life, sports, you name it and it's just been a pleasure to be part of the team. I've had some of my greatest success with Yoshimura Suzuki and the entire team has always worked hard at giving me great motorcycles to race. I would like to stay involved in racing in some way. I enjoy working with the young riders coming up and we'll see what the future holds."
The managers of the Hamamatsu factory structure in the United States thanks Roger for the years they have spent together: "We are honored to have Roger as part of the Suzuki racing family - said Pat Alexander, Suzuki race support manager - He set a standard of excellence and hard work throughout his career and he's been a great asset for Suzuki. We hope to continue working with Roger into the future." Don Sakakura, president of Yoshimura Suzuki Racing added: "The Yoshimura Suzuki Factory Racing Team has been privileged the past four-and-a-half seasons to work along-side Roger. Our team has evolved over the years as a result of Roger's competitive dedication, and his racing spirit. I respect Roger for his integrity and his core family values, we've all enjoyed the company of the Hayden family for countless years. We all wish Roger the very best as he transitions to his next phase in life."
Share