After Marc Marquez's umpteenth test of strength at the Sachsenring, the most-asked question is not whether he'll win his 5th title in MotoGP, but when. The form and maturity that the Spanish champion has reached are impressive, making him almost unbeatable in fact. During this first half of the season, when Marc has not made a mistake (in Argentina and Mugello) he has won (5 times) or finished second (twice), so a silver medal can be considered his worse result, as paradoxical as that might seem.
Considering the first 9 races, we ask ourselves whether this is perhaps the best ever Marquez. A fascinating question, though a difficult one to answer objectively. To do so, we take a look at the numbers making up his 6 years in the reigning class.
Let's start with the wins and from this standpoint, 2014 is probably hard to match. A miraculous year for Marc, with 10 consecutive wins, a run that began in Qatar and ended at Indianapolis. With the exception of that year, Marc has never concluded the first part of the season with as many wins as this season: 5. In 2013 and 2016 it was 3, while in 2015 and last season just 2.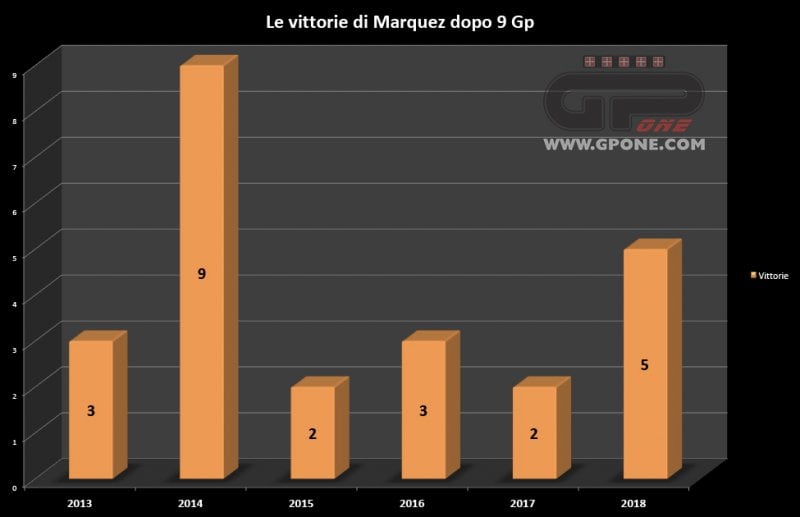 That number doesn't say it all though, because the most important thing is that Marc has, this year, won at tracks he hadn't triumphed at for a while. Take Jerez and Assen for instance, tracks at which he'd won only in 2014.
This first consideration leads us on to podium tallies and here too he is on the right path. The 7 podiums scored so far are not a record for him, as he scored 9 in the first part of 2014 (naturally) and 8 in 2013 (his debut year) and in 2016. But his second-place finish at Qatar is very important in our analysis, as it confirms that Marquez is also fast at tracks he does not love.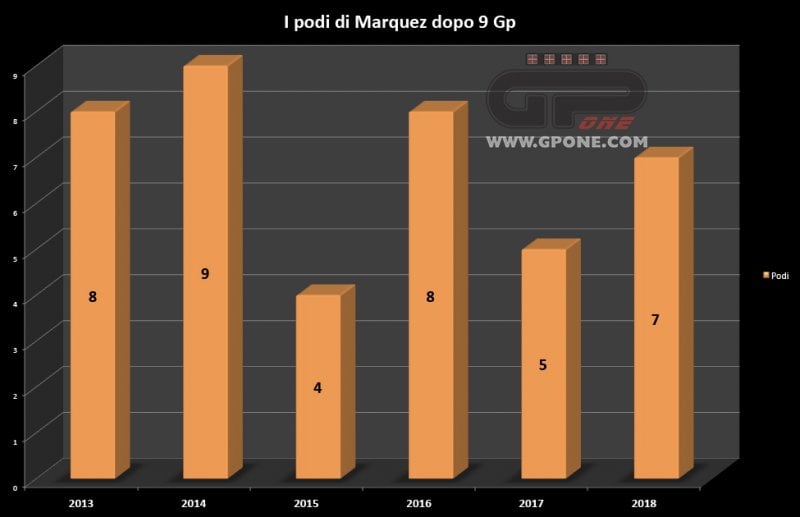 Questo è merito da una parte suo e dall'altra della Honda che, citando le sue stesse parole, "non ha punti di forza grandi come in passato, ma lo stesso vale per i suoi punti deboli". È una moto più completa e bilanciata, almeno nelle sue mani perché non si può dire che i compagni di marca brillino della stessa luce.
Passiamo ora al numero di punti conquistati: 165 fino a ora, cioè il suo terzo migliore risultato da quando corre in MotoGP. Fece meglio nel 2014 (225) e nel 2016 (170), ma peggio in tutte le altre stagioni. Da questo punto di vista pesano molto i due zeri in Argentina e in Italia.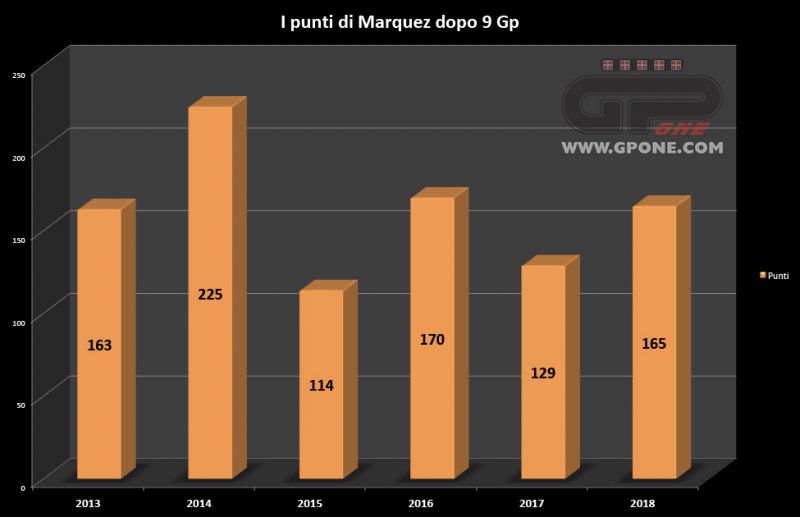 Despite Marquez having something of a reputation for making mistakes, in truth he doesn't often err come race day. Only in 2015 (the only year he didn't win the title) did he make more mistakes, with 3 zeros in 9 races, while the two 2018 races he has failed to finish in the points one equal those of last season. The difference is though that Marc, in 2017, even without mistakes, finished races off the podium (4th in Qatar, 6th at Mugello) while he has proved to be a lot more consistent in 2018.
This brings us to the last stat, the points difference. In five years out of six, Marquez has gone into the summer break as championship leader. Only in 2015 did he fail to do so. This time, he leaves the Sachsenring with a 46-point advantage, a result in line with that of 2016, when the points difference was 48. In 2014, he held a 65-point lead while in 2013 he was 16 points up.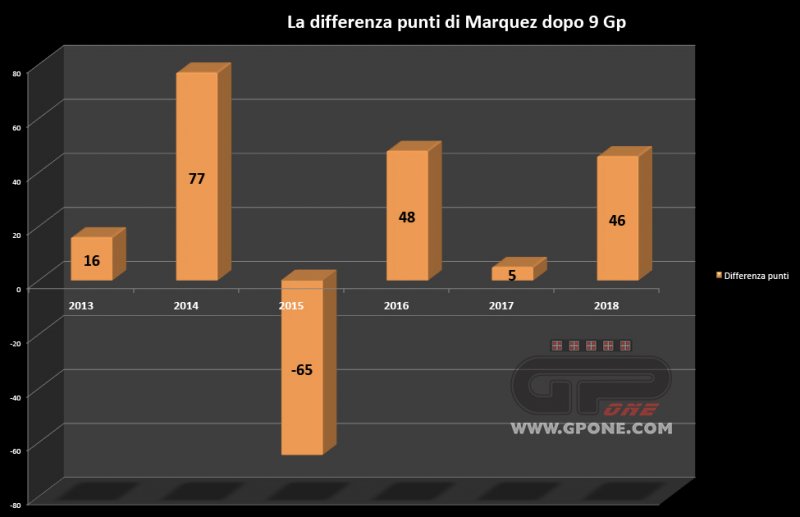 That's it as far as the numbers are concerned, but do we have our answer? The stats tell us that the Best Marquez of all time came in 2014, but in that case the Spaniard appeared almost to be an alien. Now he's more human, but perhaps more dangerous for his rivals too. He has been able to combine innate speed with a dose of strategy that allows him to better manage each race and curb that instinct that has caused him to make mistakes in the past.
We're not talking about perfection but we're not far off, and his rivals, from Valentino down, should bear this in mind over the 10 races still to run.