During the German GP, there were rumours that it might be the MotoGP's last visit to the Sachsenring, with the Hockenheim and Nurburgring tracks being cited as possible replacements.
It would be a shame though, the hills around the circuit always packed out with something like 200,000 visitors in attendance over the weekend, sometimes even more.
And now there's been a sudden development: Matthias Moser, owner of the Triple M team that competes in Superbike with the Honda Fireblade SP2, ridden by Patrick Jacobsen, is working to obtain the commercial, sporting and bureaucratic rights for the German track, along with the relative organisation of events.
Manuel Cappelletti, Triple M team manager, reveals the news: "Moser is the investor who wants to manage the rights of the Sachsenring - he explains - as of 2019. The contract with ADAC has expired, and Matthias' company is working to acquire the rights to the German track. MotoGP will almost certainly continue to run at the Sachsenring, I'd say 99.9%. There will be some details to define, but I'm sure that the championship will continue on in Saxony, perhaps the Superbike too in future".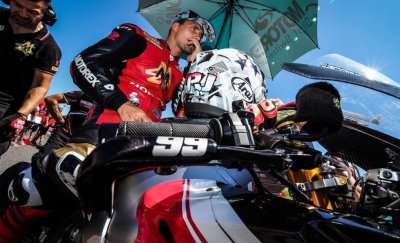 Cappelletti looks back on the Honda team's season so far: "we started strong, then got a little lost, also as a result of having many races close together. Keep pace with the best isn't easy, but I believe we can get closer from Portugal onwards. We receive the same support as the Honda Red Bulls of Camier and Gagne, we just need a little more experience and then I'm sure we'll start to see the kind of results we're aiming for with our work".
PJ Jacobsen is in Suzuka for the 8 Hours right now, will you continue with him in 2019?
"We'd really like to, it will depend on many things. Right now, PJ is focusing on the 8 Hours, he loves the Japanese endurance race. I don't know if he'll replace Camier on the HRC team, they're discussing it internally. This two-month break is very useful for us. Aside from the Portimao test, we'll have time to rest, prepare for the next races and think about 2019. The aim is to continue with Jacobsen and have a second bike in the Triple M garage. Who will decide? Us, with the help of Honda: if the subsidiary can help us, we'll have two bikes and two riders next season".