Assen might not be the legendary track it once was, but the circuit never fails to disappoint, even after all these years. An arena comprising 18 turns, 4.5 km in length and where the smell of fuel is mixed with adrenaline. An explosive cocktail, that Marquez swallowed in one gulp.
Marc won the race, but everyone contributed to the show. Rins battled with the big names, Vinales bounced back, Valentino and Dovizioso got into a mess and Lorenzo showed a real hunger. If there are more races like this still to come, then there's no excuse not to stay tuned.
THE GOOD – It took Sam Peckinpah 12 days and 10,000 bullets to create the final showdown in the Wild Bunch, at Assen it took just forty minutes and 6 riders to recreate a two-wheeled version. Even the fastest shooter in the West would have to surrender if faced with this group. A race that will go down in history, describing it is impossible, we can only suggest that those of you who missed it watch it right away.
THE UGLY –  The Assen podium could have done with being taken up a level, or two, in honour of all the riders who contributed to making it such an unforgettable spectacle. A pity there were no Italians in the top three. Rossi and Dovizioso may be fellow countrymen but on the track this counts for little, and rightly so. Both made a mistake but they had to try, else they would be better off doing another job.
THE BAD – If being fast and ruthless were a crime then Marc Marquez would deserve a life sentence. The Spaniard waited until 5 laps from the end to reveal his secret - he hadn't yet fully opened the throttle. His current form is enough to strike fear into any rival, and this championship may turn into something of a monologue. Only he can decide.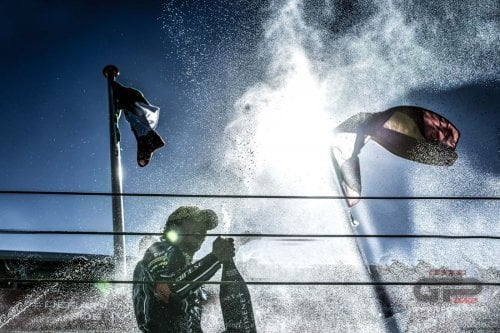 THE CONFIRMATION  – Having suffered his fair share of bad luck at Barcelona, Pecco Bagnaia wrote his destiny around the Assen track and now has a little room to breathe. Four wins in eight races is a more than respectable tally.
THE DISAPPOINTMENT – There is little to remember about Petrucci's weekend, he himself perhaps keen to forget it. A crash putting paid to his race was the icing on a less than tasty cake. Ducati has chosen him for the factory team, Danilo needs to get back on his feet, and quickly.
THE MISTAKE – A crash in the final stages cost Marco Bezzecchi dearly, Martin leading the way in the standings by 2 points. A pity, because the Italian had been looking particularly lucid prior to the fall.
THE SURPRISE  – The Suzuki school has successfully taught another pupil. In year one, Alex Rins had more difficulty than expected but the new academic year got off to a very different start. His tussle with Marquez deserves top marks and he even taught classmate, sorry, team-mate Iannone a lesson on Sunday.
THE PASS – The figure below tells you just how hard it would be to choose just one pass. Having said that, we particularly liked the  Marquez-Rins tussle, but each of you will have your own favourite episode.
THE INTERESTING FACT – Many asked how many passes were made in total during the Assen GP. The answer is 175, we didn't count them personally, but we believe it.
I TOLD YOU SO – Rossi spoke on Saturday about the possibility of Lorenzo making a flying start: "starting from 10th on the grid, he'll have already done well if he's up to 5th by the end of lap one". Jorge was up to 2nd by the first turn.
Share