Honda and Assen have had something of a unstable relationship in the past. Not that the RC213V hasn't won (3 wins in the last 6 editions, the same as Yamaha) but it has rarely been the bike to beat in Holland. Marquez has only won once in the MotoGP class, in 2014 (as well as twice in Moto2 and once in 125), Pedrosa has never won at the track in the top class, his only success there dating back to his 125 days.
This doesn't mean that his rivals should underestimate Marquez at Assen though, as the Honda has shown that it is going well at pretty much every track, something that the world champion is well aware of.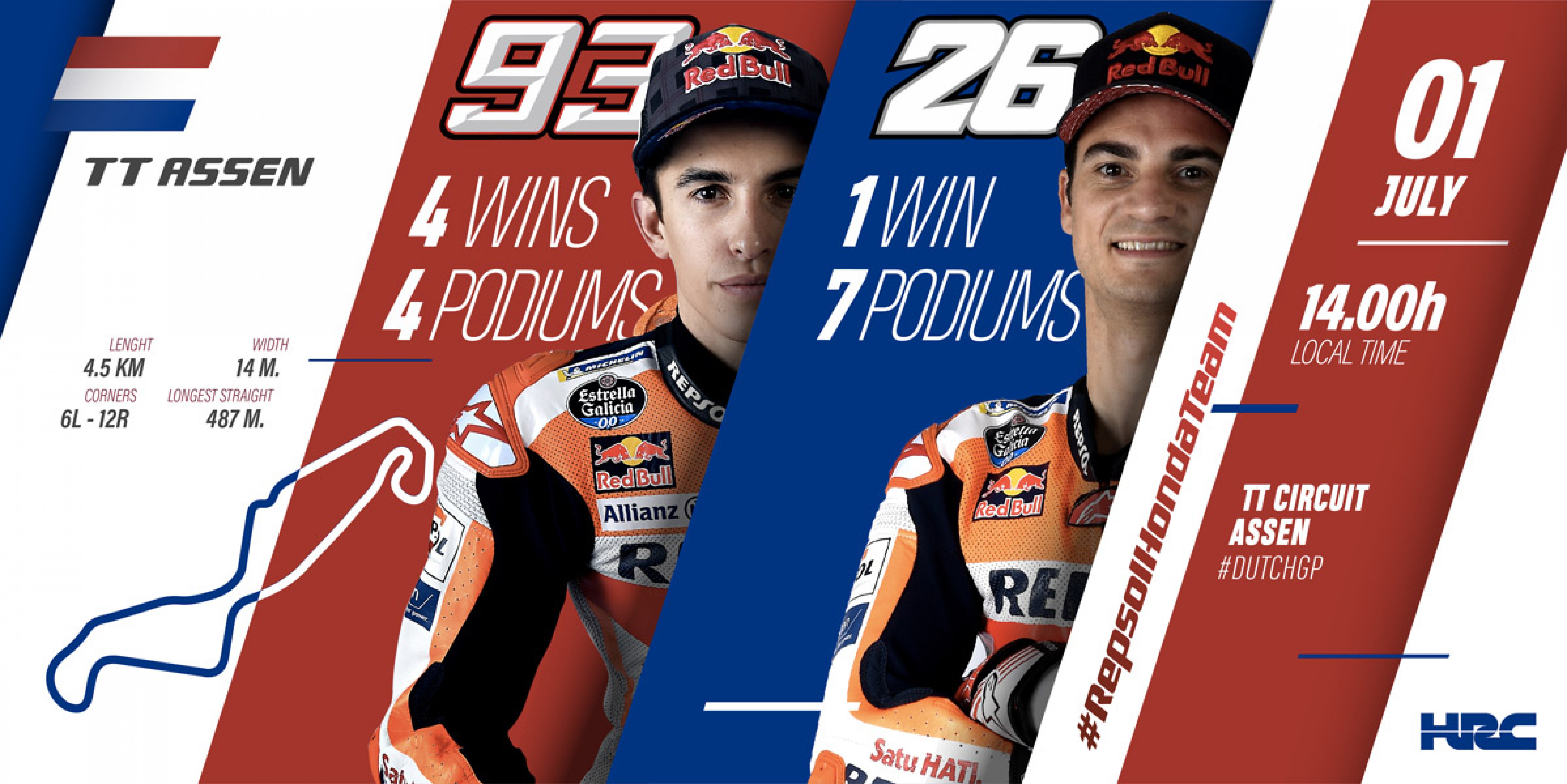 "We're coming off a good day of testing in Catalunya but Assen is a much different track compared to Montmeló, so it will be very interesting to see how we go there. So far we've been at a good level more or less everywhere and we've managed to get some good results at different circuits, so we're also feeling positive going to Assen."

Marc also has something of a championship lead. His 27-point advantage over Valentino Rossi might not be many at this point of the championship, but his strongest rivals on paper (Dovizioso and Lorenzo) are further back.

"I like the track, the 'Cathedral' of bike racing, and the fans are always very passionate there. It's good to arrive with a little advantage in the Championship, but we're very early in the season. There are several riders for whom the title is still possible, so we must just keep working and try to get the best result the situation allows."

Team-mate Pedrosa lies further back in the standings, Dani still looking to score his first podium of the season. The Barcelona tests appear to have been useful, but only time will tell.

"Assen has been a difficult race for me in the past, though I've also had some good results there. The track is very fast, and the bike tends to wheelie and move a lot. You need to work on the setup well to get a bike that's stable without losing in other areas. Of course the weather, which is typically quite unstable, can makes things even more challenging."
Pedrosa is nevertheless ready to take up the challenge.
"That said, we worked well during the recent test in Catalunya, and we found some little setup modifications aimed at giving us better grip; now we'll see how it goes in Assen."