Having won three of the last four races, the Yamaha Pata Superbike team's shares have soared, (perhaps) the most competitive outfit in the paddock right now. 
A double win for Van Der Mark at Donington Park followed by Lowes' first win at Brno, without forgetting the numerous podiums obtained at the start of the season: the four-cylinder R1-M is strong and Michael and Alex have learned to get the best out of it.
Then men in blue arrive at Laguna Seca with high hopes of consolidating their recent performance, particularly the results scored in the last month. The Dutchman is excited and confident: "I love coming to the Laguna Seca circuit. Last year my results were not great here but this year the bike has improved so much, as we could see at the last couple of rounds, so I am really confident we can fight for the podium again. I am enjoying riding my Pata Yamaha R1 at the moment, with all the team's hard work really paying off, and I can't wait for FP1 to start at this amazing circuit so we can continue our great form."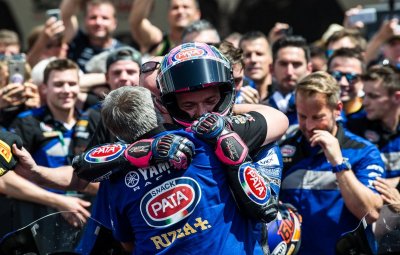 Alex Lowes has had a breakthrough. Thanks to his recent win - his first ever in Superbike - the Brit now knows he can fight with the frontrunners, which perhaps means the renewal of his contract is not an impossible outcome. Alex wants to continue on this path at Laguna: "​​​​​​​Coming off my first WorldSBK victory,  I can't wait to get to work and keep the momentum going at Laguna. It's a fantastic circuit and place to come and race. The famous corkscrew section is lots of fun...the TV really doesn't do the gradient justice! In general, it's a tricky track and hard to get a good setting but lately, we have been working better and better as a team and it just makes me so excited to get there and keep on working!"
Share