What does the black bike hide that Marc Marquez rode in the Barcelona tests? "Let's just say that it is different from the current one, but it is not a prototype of what the 2019 Honda will be" came the world champion's cryptic reply. Even when peppered with questions, the Spaniard evaded and revealed nothing. "I would just be making things up. I can't reveal much more" he apologised, obeying the Japanese engineers' orders.
Only when asked which bike he prefers between the new and the current one, did he let slip "I feel really good on the old one." Although, in truth, he then revealed that he used the current RC213V to do the best time of the day "but with a part from the black one."
Which part, he did not reveal, although logically he must be talking about the chassis architecture.
"At the end of the day, I combined all the good things I found - he explained - To be honest, they had put on the new tyres just to do an electronics test, but when I saw them I couldn't resist."
About three tenths off Lorenzo's pole position time is undoubtedly a good result.
"The important thing is that today we worked hard and I did a lot of laps - he emphasised - As always, there are positive things and negative things, but we gathered a lot of important information for the future. We were trying to improve in the braking phase and I would say that we succeeded."
At Assen, he will have confirmation.
"It is a very different track than Mugello and Barcelona. Usually the Yamahas do well there, so we'll see" he reflected.
Partly because Marquez has no intentions of talking about a 'done-deal' championship.
"There are a lot of races left and anything can happen - he cautioned - Lorenzo and Dovizioso are at a good distance in the standings, but in the battle for the title. Just think about what happened at Mugello and to Andrea yesterday. A mistake is always possible."
Speaking of mistakes, Marc had a small crash today too.
"On turn 10, the hairpin - he revealed - I tried to save it, but I ended up in the gravel."
The last comment concerns the new front tyre Michelin brought.
"It does rather well - he says, giving it passing marks - It guarantees more stability at maximum lean angle. I think everyone liked it.".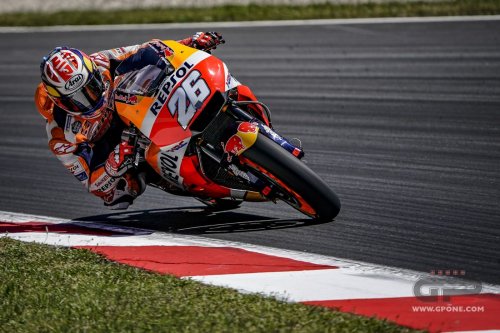 PEDROSA: POSITIVE TEST, BUT I'M KEEPING MY FEET ON THE GROUND - If Marquez turned 88 laps (which makes him the high mileage rider of the day along with Nakagami), Pedrosa certainly did not hold back, getting in 77. "I wish to thank the team, because we worked a lot on the chassis architecture geometries and it took the guys more than 20 minutes for every change. There were a lot of parts to disassemble" Dani acknowledged.
Unlike his teammate, he did not try to improve braking.
"Going into corners is fine for me, but I need more speed going through them and coming out" he explained.
Did all the hard work bear fruit?
"It wasn't easy to understand the consequences of the changes, especially when the temperatures rose - he explained - We will certainly continue in this direction, but I want to keep my feet on the ground to have some clearer ideas."
In any case, Pedrosa is satisfied.
"We worked from 10 in the morning until 6 in the afternoon. It was a hard day, but I consider it to be positive", he summarised.