In winning at Brno, Alex Lowes has achieved what he'd been looking for ever since arriving in the world championship - in 2014  - when he entered the paddock riding the Suzuki GSX-R 1000 of the Crescent team, scored three podiums .with them over two seasons.
As of 2016, Alex is in Yamaha colours, the manufacturer entrusting management of the official R1s to the same structure, which has changed both colours and mentality, racing to win and aiming always for the top positions. Van Der Mark double at Donington has spurred the team on, even giving Lowes a confidence boost that has seen him confirm his own progress on board the Iwata four-cylinder: "I wasn't very happy in England of course, but on Sunday I reacted, and it was a fantastic feeling; I've had to work long and hard to achieve my first win in Superbike. A great result for me and for the team, with which I have a great relationship both in and out of the garage. We won together at Brno".
The R1s have greatly improved since the start of the season, the Yamaha now appearing to be the bike to beat, with three wins in the last four races: "we've worked to get our bike to a first-rate level of competitiveness, working on various areas. We've taken big steps forward in terms of the electronics and other details, all of which work well together. Compared to our rivals' bikes, ours closes the corners better, I think the R1 is the easiest to handle on track, though we need to improve some other riding phases".
Your direct rival, Van Der Mark, was pleased after your first win.
"Yes and I'm pleased about that; Michael and I are not great friends, but we have great mutual respect and work well together in the garage, both with the aim of improving the bike and the team's results as much as possible. There's a real good, positive atmosphere inside the garage, we work hard but are united, with no 'walls' or obstacles".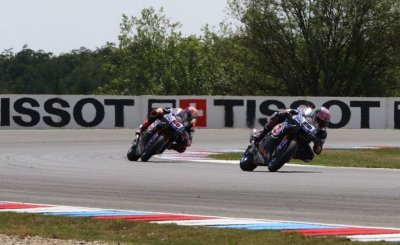 Rea has renewed with Kawasaki for two more years…
"… and I can only be pleased; to reach the level of success he's now having, it took Johnny years, and time to find the right situation; beating him at Brno means even more, just as it will for anyone who does so in the future".
Your contract with Yamaha expires this year; are you any closer to a renewal now?
"Yes, my contract expires this year and the goal - and my desire - is to stay with them for another two years; as we've shown, it takes time and hard work to achieve certain results. At this level, nothing comes by chance and, as I've said, Rea also needed time and hard work to get where he is. It would make sense for me and the team to continue on this path: the feeling with the bike and the guys is at a max, Van Der Mark and I are the youngest competitive pairing right now, I hope this can continue; my goal is to win more races this season and fight for the title in coming seasons".
Share