In just a few more hours, the protagonists of the American championship will be back on the track to resume the hostilities that had been (temporarily) suspended after the VIRginia Raceway round.
The fourth round of the season will be held at the Road America circuit in Wisconsin. The riders will once again find a tough, selective, technical and difficult track there, but… no problem: that is just the type of track that gets the most skilled and daring riders pumped up.
Who will be able to stop Toni Elias? Will anyone be able to? Although there are still plenty of races left in the season, the question naturally comes up. The team Suzuki Yoshimura Spaniard has rocketed his factory GSX-RR to the top of the standings, winning every race except the wet race at COTA. If the Moto2 World Champion proved to be unbeatable on a dry track and Dunlop slicks, in Austin he was forced to yield to the attacks of South African Mathew Scholtz astride his Dane Westby Yamaha R1. As things stand now, that was apparently a unique and isolated episode.
Elias currently has a score of five wins out of six races held and Cameron Beaubier – two-time champion – has sounded the alarm: "We have to step up and start winning races – the factory Yamaha rider from California warns – There are plenty of races left, but Toni has gotten off to a fast start". The number 6 rider is right.
Besides Scholtz and Beaubier, taking their turns on the other steps of the podium have been fast riders Garrett Gerloff – also on the R1 – Josh Herrin (a rider who also has experience in the World Grand Prix Championship) and, just to emphasize how strong, determined and in form Elias has been, consider the fact that his teammate Roger Lee Hayden has yet to finish in the top three, despite being astride the same factory Suzuki. Jake Lewis (also hailing from Kentucky, like Hayden) is higher up in the standings on his M4 Ecstar GSX-R.
With 35 points over the rest of the pack, Elias could take a stab at running away with his second MotoAmerica title. On Saturday and Sunday, we'll see if he can do it. With Suzuki and Yamaha dominating the stats, Kawasaki, Honda and BMW have only been left with the crumbs so far.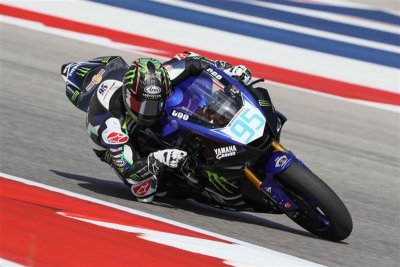 In the Supersport 600 it's a battle between the two Yamahas ridden by JD Beach and Hayden Gillim, with the exuberant, wild-haired number 95 rider looking down at the rest from the top spot. JD is fast, skilled and hungry for success. His R6 is the bike to beat, so trying to stop him will be a tall order for Gillim and company.