After traveling through time completely naked, the T800 needed – first and foremost – some clothes. After – rather conspicuously – entering the nearest watering hole, the humanoid cyborg appropriated pants, a T-shirt and a leather jacket. Still not happy, he rather domineeringly throws a leg over a beautiful Harley Davidson and, before cranking over the engine, he decides to put on a pair of Ray Ban sunglasses, despite the night hour. And then he's off with a twist of the throttle, rear tire smoking and the huge twin-cylinder roaring.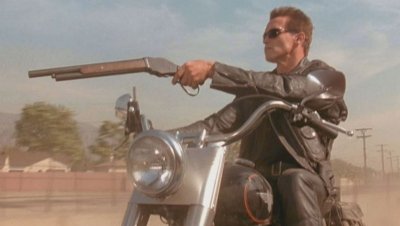 If you haven't caught on yet, this is the opening scene of Terminator 2, Judgment Day, starring Austrian former Mister Olympia, Arnold Schwarzenegger who, in that second blockbuster movie, played the part of the "good" robot – the one tasked with defending the human race instead of trying to exterminate it.
After acquiring his objective – young John Connor – the T800 begins to show off his riding style, made up of huge spinouts controlled with only one arm (in the other hand, Arnie was gripping a Winchester 1887 lever-action shotgun), incredible late braking, scraping the footpegs of his freshly heisted black Harley Fat Boy with its flashy, polished chrome.
The "bad guy", or rather, the BADGUY T1000 tried everything to stop Arnold who, dressed like a hardened redneck, used his body to protect young Connor, riding two-up on the passenger portion of the wide upholstered saddle.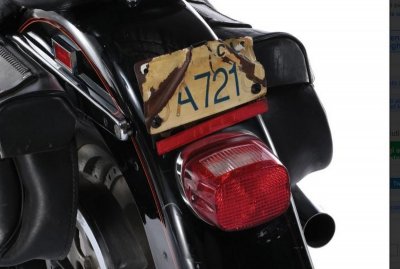 Sci-fi and Harley enthusiasts alike, or anyone else for that matter, can now own the bike that Schwarzenegger rode to the Los Angeles city limits: the Fat Boy is up for sale. Purchased by Carolco Pictures, which produced the film, the legendary and iconic Harley has some scratches and minor dings (understandable: the T800 even jumped it off a bridge, with a jaw-crunching land), a few tears on the black vinyl saddle and the side mirrors are missing. It may need a thorough tune-up, but in any case, the sale price ranges from $200,000 to $300,000 as the starting point for bids.
Live auction bidding starts in just under two weeks, so if you want to own the bike that played a key role in a revolutionary and legendary film, here is the link to follow.
But before you start feeling like a Hollywood star, remember: like he promised young Connor, the T800 never killed anyone, going against his killer instinct.
Share