On Sunday evening, almost all MotoGP teams headed straight from Le Mans to Barcelona. A test session was set to take place today at the track that will host the Catalonia Grand Prix in less than a month's time. A useful opportunity for all riders then, particularly as the track has been resurfaced over the winter.
The weather is unfortunately not playing ball though and this morning riders were met with a wet track. The forecast is not looking good and, unless things pick up rapidly, the tests will have to take place tomorrow instead.
The factory Ducati, Aprilia, Honda, Yamaha, Suzuki and KTM teams are all present and correct, as are some privateer teams. Marc VDS should have taken part but according to Marc van der Straten, Michael Bartholemy cancelled the test at the last minute.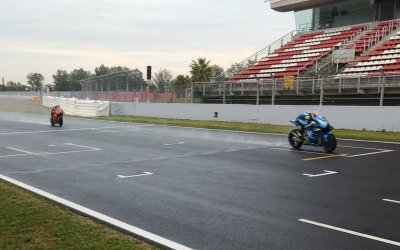 UPDATE. Alex Rins and Bradley Smith, riding the Suzuki and KTM respectively, went out on track at 10.30 local time. As can be seen in images posted on Twitter, the track is very wet.
Naturally, those teams benefiting from concessions, allowing for unlimited testing during the year (so Suzuki, Aprilia and KTM) will take the opportunity to complete some laps in wet conditions.