At Le Mans, the two team Alma Pramac Ducatis did well, independently of other riders' crashes. Danilo Petrucci finished on the second step of the podium and Australian Jack Miller finished fourth, with a gap behind winner Marquez of just six seconds.
This is number 43's best result of the season – a draw with his fourth place at Termas de Rio Hondo: "I paid a lot of attention to tyre wear during the race – Jack explained – and we took a bit of a risk choosing the soft front tyre. I tested the medium during the weekend, but I wasn't sure that it was the right choice. I preferred using the soft and it was a gamble. The bike felt stable, maybe sacrificing a bit of top speed. I made a few mistakes and I felt the front tyre closing up in braking on the straight opposite pit lane. Following Valentino, I was getting very close to him. I knew that he would make a mistake with worn tyres and he did, so I was closer, but I didn't have the pace to be able to catch and overtake him. It was the first time in my career that I hoped the race would last longer. With another two or three laps I could have overtaken Rossi for third place."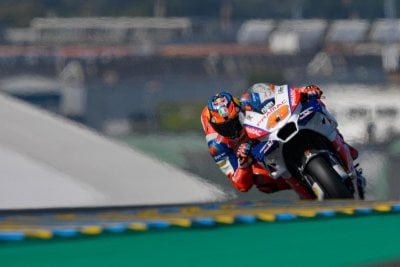 By now, a podium seems to be close for him.
"I made some small mistakes in the second part of the track. If I hadn't, I would have been able to catch Rossi who was ahead of me, but I had to give up on that to keep from compromising our races. It was not an easy day, but we learned a lot once again."
Miller battled hard, on every point of the track: "We suffered a bit in terms of top speed – he recounted – especially on the main straight and in acceleration. We worked a lot and hard. We didn't get this podium, but we came close, finishing just 6 seconds behind Marquez. We still aren't ready for the podium, but I'm confident that, continuing at this pace, we'll be able to battle for the top positions in the near future. Congratulations to the entire team and to Danilo for the brilliant result. I am really happy for them."
Share