On Saturday he had to work for the win, whereas on Sunday he literally dominated. Toni Elias wins again in Virginia, making it his 2018 score 5 out of the 6 races held so far.
The number 1 team Yoshimura Spaniard rode his Suzuki GSX-R into the lead from the start all the way to the checkered flag, concerned only with saving his Dunlop tires and the gap accumulated over race distance. However, two laps from the end, Toni looked over his shoulder and saw that there were four riders trying to make life difficult for him… no problem: increasing his pace, the champ won again. "Compared to yesterday, today I was more comfortable on the bike – Elias said – The final few laps I tried to rest and then do the last lap at a good level, trying not to make any mistakes. Winning twice here is amazing for me and the team and I never expected that." Toni has surpassed American Fred Merkel in terms of the number of MotoAmerica wins, now at 21.
Not even Cameron Beaubier managed to finish on the top step of the podium this time. The two-time USA champ is fast on his factory Yamaha R1, but a win in 2018 is still complicated to achieve and second place is not an entirely satisfying result for him. Third place went to South African Mathew Scholtz – also astride an R1 – who, unlike Beaubier, has won at least once this year in the Texas rain.
Riding an excellent race in the early stages and making things difficult for Elias, Josh Herrin finished fourth, while fifth place went to Jake Lewis on his Suzuki. BMW was seventh with Danny Eslick while Cameron Petersen's Honda crossed the finish line this time and David Anthony rode his Kawasaki into the top ten. Roger Lee Hayden did not finish in the points in both the first and second race. In fact, on Saturday he was involved in a bad accident where Bobby Fong also ended up in the gravel.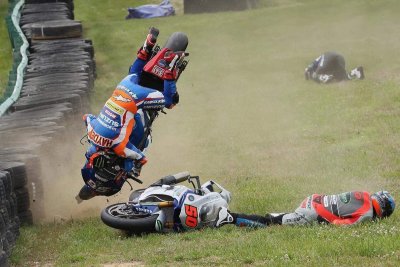 In the 600 Supersport class, JD Beach is taking off. With a 28 second advantage over the second place rider, the team Graves Yamaha number 95 rider brought home the umpteenth win for them, solidifying his lead in the overall standings. Another R6 finished on the podium thanks to Braeden Ortt, with Cory West third astride his Suzuki GSX-R. Zero points for Hayden Gillim, Beach's closest rival in the race for the intermediate category title. 
Rider standings :Beach 95, Gillim 65, West 53.