Of the three protagonists of the Jerez omelette, Dani Pedrosa is (perhaps) the least guilty party. Coming up extremely fast behind the Ducatis ridden by Dovizioso and Lorenzo, the Honda riding Spaniard had the misfortune of being in the only place where he shouldn't have been: precisely in the Jorge's trajectory as he re-entered from going long on the right-hander.
The collision between the two was violent and inevitable. Dani was thrown into the air, coming down hard on the asphalt. With the engines switched off and after plenty of controversy, he wants to express his point of view: "Obviously, I am disappointed to finish the race like this – Pedrosa explains – Until today, I had never before been involved in a triple crash like this one. All three of us were protagonists of a fantastic race and it was a pity not to finish it. I struggled in acceleration. On the straights I was unable to keep the Ducati's pace and that's why I was so far behind and couldn't attack them in the braking sections to overtake. On the open track, I had a better pace than the two Desmosedici machines, but with them ahead and not being able to overtake them, I followed, waiting for any possible mistake. Andrea and Jorge went long, so I took the inside line, the right one, and suddenly I found myself flying through the air after the contact with Lorenzo who crossed into my trajectory. I hadn't seen him. I'm sorry for myself and for Jorge and especially for Andrea and his championship standing. At the end of the day, none of the three of us are at fault."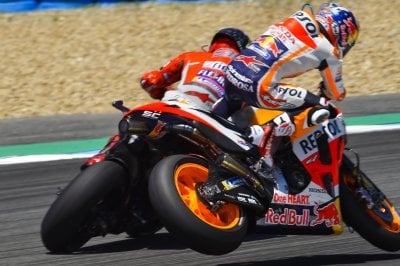 After the incident Race Direction summoned Lorenzo, Dovizioso and Pedrosa. The team Repsol rider is keen to specify what happened: "Race Direction said that it was a simple racing accident – he recounts – But I disagree. It is true that the riders involved are some of the most courteous on the track, but I don't think that it was a simple racing incident. I wanted them to understand that, before returning to his line, a rider needs to look to see who is coming up from behind. The marshals asked me if I wanted to file a complaint against Lorenzo, but I didn't want to. I don't want them to penalise him, I just wanted Race Direction to understand the actual dynamic of the incident."
Did your recently operated wrist suffer another blow?
"No, fortunately I only hit the asphalt with my helmet and I was able to protect my hands and wrists. We checked at the end of the race to make sure that everything was fine."
Share