In just a few days, the protagonists of the American championship will restart their engines. The third round of MotoAmerica 2018 will be held on the extremely difficult and selective VIRginia International Raceway, a circuit characterized by repeated changes of slope and direction, tackled with the throttle wide open and without seeing where your tires land, relying on instinct and memory.
The Superbike class riders will be competing in races number 5 and 6. In the first four, three were won by Toni Elias, the number 1 rider for team Yoshimura, who have entrusted the Spaniard with a truly dialed in Dunlop shod GSX-R 1000, so much that – in his expert hands – it has become the bike to beat, especially on dry asphalt.
For the time being, the only time Toni wound up on the short end of the stick was in the driving rain of the first Austin race, where South African Mathew Scholtz took the in astride his team Westby Yamaha R1. With long limbs and an aggressive style, the 2017 Superstock champ has the potential to be a thorn in Elias' side in Virginia as well on a track that favors well-built riders.
Besides Elias and Scholtz, Cameron Beaubier and Garrett Gerloff (Monster Yamaha teammates) have so far settled for the remaining spots on the podium. In this third round of the season, the two riders are aiming to end the dry spell and ride their R1 machines to the top..
Keep an eye on Josh Herrin too, already showing his speed in Texas. The former Moto2 rider holds various firsts in Virginia, not the least of which is last year's pole position. One of the more expert riders, currently occupying eleventh place in the overall standings, is Roger Lee Hayden, teammate to Elias… Still hungry for his first win, the great Nicky's younger brother could very well break the streak on Saturday or Sunday. Still no wins or podiums for Honda, Kawasaki and BMW, fast, but not fast enough to trouble the leaders.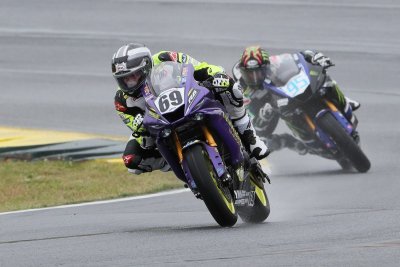 This will be the third round for Supersport, absent in Texas. There is a tie for the leadership in this class: 45 points each for number 69 Hayden Gillim and number 95 JD Beach, who divided the spoils equally between first and second place finishes in the races which have so far been dominated by the Yamaha R6 machines this season. Not only in Europe, but in America too, the 4-cylinder bike from Iwata has set the bar in the 600 category.