Nowhere near satisfied with his fourth place in the Race 1, Toni Elias decided to rectify the situation, back to his winning ways on the Circuit Of The Americas.
Unlike the pouring rainfall for the first race, the sun was shining on the second. The team Yoshimura Spaniard squeezed his Suzuki GSX-R like a lemon from the first to last lap, in the lead the whole way and without making even the smallest mistake. The two team Monster Energy factory Yamaha R1 machines ridden by Cameron Beaubier and Garrett Gerloff didn't stand a chance.
For Toni this is win number 5 in Texas and his third of the 2018 season: "Yesterday, I expected a little bit more – Elias recounted – but something was, I didn't feel comfortable… not good grip. Today, the main goal was win." The former Moto2 world champion's riding style is the same as what he showed in Europe: hard braking, with the front end down and the back in the air, completed by sudden acceleration without holding back coming out of the corner.
Beaubier finished once again behind Elias, but the gap between him and the winning Suzuki exceeded 10 seconds; Gerloff's third place time was more than 14 seconds behind. When Toni is on point, he has no rivals in MotoAmerica, but watch out: the championship is still very long and, already in the past, we have seen that anything can happen all the way down to the last race.
Fourth place went to Josh Herrin, on the podium in Race 1, and it was fifth for Jake Lewis with the team M4 Ecstar Suzuki. The winner on Saturday in the wet – Mathew Scholtz – finished on Sunday with sixth place. They fought a fierce and spectacular battle, although not for a podium position.
Out of any effective battle for the top spots, Roger Lee Hayden finished seventh with the second Yoshimura Suzuki ahead of a BMW, a Kawasaki and a Honda ridden respectively by Eslick, Anthony and Petersen.
Elias leads in the standings with 88 points. Scholtz is lying second with 71 and Beaubier third with 63 points.
The next round of the MotoAmerica season is set for less than two weeks at VIRginia International Raceway.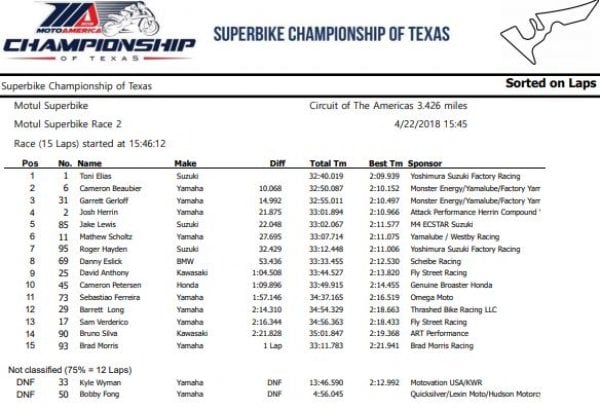 Share