When passion is real, there are no half measures.
Not even for a man like him who, on his return to riding, decided to take to the track with a bike that featured a pitboard and the number 1/2, which described him perfectly: missing a leg and an arm, he coined the nickname "Half Man", which shocked people at first, before exciting them.
His body was found in his home in Australia by a friend who would help him with normal day to day tasks, but he – Alan Kempster – never accepted the word "normal". Just as he would never give up or compromise: the terrible accident in which he was involved, caused by a drunk lorry driver, saw him lose two limbs, yes, but not his smile or his desire to try, to succed.
After a one year recovery period, during which Alan went through tough and painful times, with various operations and rehabilitation, this Aussie tough guy returned (or as he said 'learned') to carry out those everyday actions, or rather, eating, speaking, walking and... winning waterskiing competitions.
Reluctant to use prosthetics or any technology that was too advanced or invasive, he wanted to get back on a bike at all costs, signing up for a national race. The stewards carrying out the technical checks were bemused: "umm, but where's the throttle, the brake lever and the right footpeg on bike number 1/2?!"
Everything he needed was on the left. Alan controlled the gas, clutch and front brake with his left hand and, with his remaining leg, he'd change gear and use the rear brake, a true toe-heel technique.
For someone like him, honest to his core, ticking the NO box was only natural, in answer to the question 'do you have a disability that prevents you from riding the bike?': "it doesn't prevent me and this is my problem anyway, not that of those issuing the licences"  he stated, no-one daring to contradict him.
His rivals were scared of Alan; in the race they would facilitate his passes and didn't trust him. But once they realised that Half Man wasn't messing about, his rivals made more effort, wanting to pass him.
The first disabled rider to win in a race against able-bodied riders was in fact Kempster. The first international race dedicated to guys like him was at Mugello in 2014, in the presence of personalities such as Cecchinello, Marchetti, De Angelis.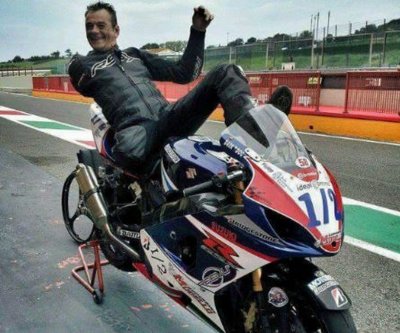 Chiara Valentini from the Di.Di. Diversamente disabili association knew him well and remembers him with these words: "thanks to a fundraiser, we hosted him in Italy. The apartment where Alan stayed was on the first floor and had no elevator. When we asked him if it was a problem, he replied with a smile "no, all I need is a case of beer". Kempster was a real force of nature, an example for us all. Alan was a free and crazy spirit, but his craziness was positive and exhilarating".
So exhilarating as to become motivation for youngsters in Japan. In the various paddock in which he raced, Alan Kemspter helped to inject all those disabled people who wanted to return to riding with courage and confidence, saying things like: "when the organisers ask me if I'm scared to break an arm or a leg, I tell them that there's 50% less chance of me doing so compared to everyone else".
The fact that he's no longer with us, taken away too soon at the tender age of 56, is a real loss because, as Chiara Marchetti thought as she saw him speeding around Mugello: "so he can do it!"
Share