Saturday on dry asphalt, Sunday in the rain: what a double, Toni Elias!
On the difficult Road Atlanta track in Georgia, the Spaniard did justice to the number 1 on the top fairing of his Suzuki GSX-R, deservedly earned last year, sweeping the first weekend of the 2018 season with an indisputable double win.
In the pouring rain, Toni attacked Cameron Beaubier, passed him, and then won with a decent gap: a second and a half or a bit more. Enough to file away his eighteenth MotoAmerica win: "a perfect weekend – he began happily – It's been since 2001 that I haven't won a wet race. Cameron (Beaubier) and Roger (Hayden) helped me to find my pace, and at the end of the race, I was able to go a little bit more. Many thanks to my team." Now Elias and team Yoshimura (still) represent the duo to beat.
Beaubier was also happy. The Californian crashed three times in as many days, but in race 2 he stayed upright. Mathew Scholtz, after an offroad excursion in the mud, made up lost ground and snagged third place. In summary: a Suzuki on the top step and two Yamahas on the other two.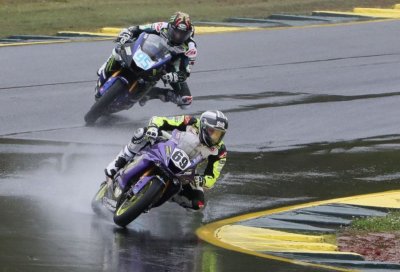 In a race characterized by difficult conditions, only 9 riders went the full distance: Wyman on Yamaha, Hayden with the second Yoshimura Suzuki, Herrin and Ferreira with another two R1 machines, the Kawasaki ridden by Bruno Silva bested Garrett Gerloff – on the podium Saturday – Beaubier's teammate.
There was plenty of water for the crowded Supersport class as well, where Hayden Gillim came out on top after finishing second on Saturday. Hayden rides an R6 operated by team Rickdicoulous, but they don't seem to be too ridiculous – anything but! The team provides Gillim with a well set up R6 that let him beat his direct rival JD Beach, winner of race 1 on Saturday.
Ashton Yates rounded out the podium, with the abundant presence of Yamahas and 3 Suzukis in the top 11 worth a mention. From twelfth on, all the riders were lapped.
The next MotoAmerica round will be in Austin at the Circuit of The Americas alongside MotoGP (in the third round of the season).