Toni Elias is after his second MotoAmerica title in a row and just maybe he'd like to do it by winning all the races on the 2018 calendar.
The team Suzuki Yoshimura Spaniard is off to a good start: at Road Atlanta, the number 1 rider dueled for the first three quarters of the race with Mathew Scholtz, the South African team Wesby Yamaha rider, to then pull away a few laps from the end.
This is Toni's 17th win in the USA, apparently his promised land: "My pace was good and I knew it – Elias said in the Road Atlanta paddock – So when Mathew passed me, I thought 'Man, this is not good'. It was time to push, and I was doing that all the time, so at the end it was perfect."
After all, Scholtz is a rookie. American Superstock 1000 champion, Mathew was happy with his second place finish, achieved with his spectacular drifting style.
Another rookie on the podium demonstrates that young talent on two wheels is still being produced in the States: third place for Garrett Gerloff, a highly regarded rider in the paddock. He rides a super factory Yamaha R1 and the Texan knows how to ride it to the limit.
Ending up in the gravel during the initial stages and then getting back in the saddle, it was ninth place for two-time champion Cameron Beaubier. The Californian will once again have his work cut out for him this year battling Elias. Zero points for Roger Lee Hayden, crashing out and throwing in the towel after a few laps, with his GSX-R in pieces after the blow.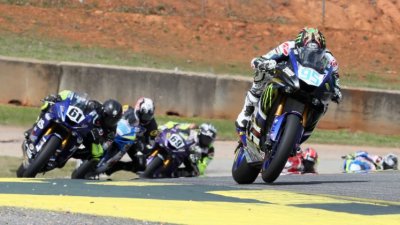 Behind Bobby Fong's Yamaha was Jake Lewis on Suzuki di Jake Lewis; Danny Eslick's BMW was seventh ahead of David Anthony on Kawasaki. Honda rider Cameron Petersen was also a DNF, crashing in the early laps.
In a Supersport interrupted by a red flat, at the second start it was JD Beach finishing first. The Yamaha R6 rider just barely got the best of his friend and rival Hayden Gillim, also astride an R6, with a gap of just 223 thousandths.
Corey West rounded out the podium on his Suzuki GSX-R 600 which, in the MotoAmerica championship, is still a very popular and competitive bike: Nick McFadden finished sixth on a four-cylinder from Hamamatsu, hounded by Daytona Anderson.
The Road Atlanta race weekend is not over yet: there are still plenty of thrilling races on the schedule.
Share