The first Aragon race proved to be another positive one for the Pata Yamaha team. The two official R1s are the third force and, with respect to last year, the music has changed.
Although the two Crescent riders were unable to reach the podium, the gap to Rea remained contained, with Michael Van Der Mark closing fifth, less than 9 seconds from the front, and Alex Lowes less then 10 seconds away.
Van Der Mark appeared to have the potential to reach the podium, but something went awry: "I made a good start, but I missed my ideal breaking point into the first corner. I was catching up and riding well, but then the red flag came out".
After the second start, VDM had to deal with another problem which slowed him down: "I got away well the second time too, but lap after lap I started to have a problem with the gears, and couldn't downshift properly. I was still able to ride well though, despite the problem, and finished fifth. I'm quite pleased with the result, we're happy in the garage and hope to be able to fight for the podium in tomorrow's race ".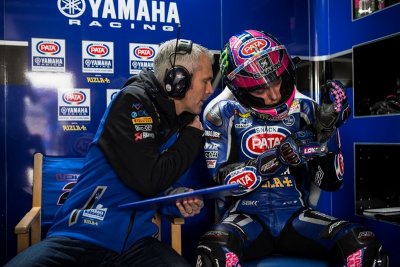 And then there's Alex Lowes, who says he had trouble, particularly in the initial stages: "I suffered more in the first laps than I have so far this year, the race was tough. During the first laps, I was suffering with chattering into the corners, which prevented me from riding as I wanted ".
From there to the chequered flag, #22 optimised his performance and final result: "I focused hard so as to avoid any mistakes, trying to get my bike over the finish line; the guys and I will work to solve the problem, so that we can fight for the best positions tomorrow".