They've turned the race regulation upside down, reducing engine rev limits and making changes to the grid procedure.
Yet, whatever they do, we're sure that Johnny Rea would still be the same tough guy, more determined than ever in fact. Today, the three-time champ again played the part of cannibal, winning race 1 and taking his SBK career tally to 56 victories. 
He's moving in on Fogarty's total, though Johnny is only thinking about the present, working away to win one race at a time, before making the final count. His Saturday at Aragon went very smoothly, as he himself admits: "These track conditions suited us perfectly today. We were able to find a good set-up and the tyres worked well in these weather conditions.
The red flag that came out following Camier's accident did little to distract Rea, who now appears to have an even more competitive bike, despite the regulation changes: "I managed to find a good rhythm and I was confident, especially at the end of the race, when I knew we would be strong. I saw this race as our chance from the start. I thought that all the cards were on our side, so I just tried to be clean. I made a couple of little mistakes, and when Xavi Fores came past me it more about trying to understand where he was strong, and then improve. Mid corner, I feel like our bike is a little bit stronger. So all that first section of the track, where it is more flowing, I felt really strong. I am enjoying riding the bike."
Tom Sykes struggled once again today. The Englishman didn't have a bad race, but his performance does not compare to that of Rea. Tom is a strong rider who knows how to react, but he suffered some problems at Aragon: "A strange race and I am obviously disappointed. We have worked hard but we are giving away too much in acceleration. So many times our corner entry and speed is very good but we cannot get out of the turns as well. Even in the slipstream, I can only start to keep the same speed in the last 50 to 100 metres."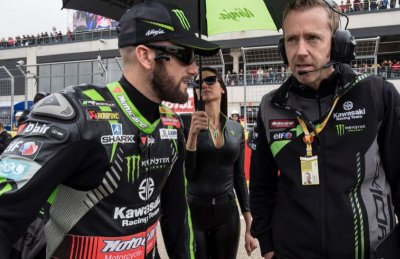 The championship is long though, and Sykes can count on the skills of the team Provec technicians, as well as trying to change his race strategy: "Jonathan has done a good job today. I think the secret for me now is to try to keep towards the front because the moment you have three bikes in front and couple behind, I get passed by the guy behind."
Share