Argentinian ex-rider, Sebastian Porto, now a TV commentator, had a lot of fun at Termas de Rio Hondo, his home circuit.
In addition to admiring the World Grand Prix Motorcycle Racing Championship riders in action, he also got back in the saddle astride a brand new bike for him: the new and 'electrifying' Energica.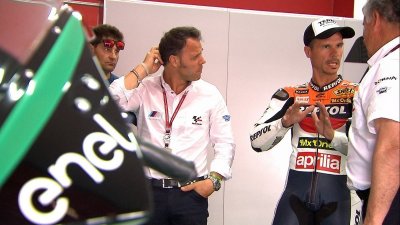 "The MotoE bike proved to be more interesting than I had expected – Seb reveals – I knew the project, had spoken with Crafar about what he thought of his test in Qatar and… I think it is a bike like the others. The aesthetics are truly similar. Once in the saddle, I found a suitable riding position for a racing bike; it was hard to find any differences. On the track, I noticed straight away that the Energica is heavier than anything I had ever ridden before, but you only feel that in braking. The handling is excellent, as is the rideability. Its acceleration isn't bad. The torque coming out of turns is similar to that of a Moto2 bike. What's lacking is the top speed. I liked the MotoE bike. It's fun and interesting. The only difficult thing to get used to is the total absence of the engine rumble. Here silence reigns – a strange situation."
Besides the (non-existent) sound, coming from a standard racing bike, what do you need to adjust to?
"For me, accustomed to riding 2-stroke bikes, the absence of the engine brake is not a bother. Since it has no clutch or gearbox, it struggles more to stop. Getting stopped is managed 100% by the brakes. The prototype next year will be more evolved, certainly better and more competitive."
With combustion engines, you also ride "by ear". How do you manage any drifting with the MotoE bike?
"That is a good question. In mid-corner, the electric bike behaves like any other. Acceleration coming out of the turn is perfect and the grip is incredible, thanks in part to the Michelin slicks. I didn't have any situation where I lost grip. The motor response is smooth and the front end doesn't wheelie. It has the modern equipment, including traction control. Physically, it does not demand any particular physical training different than usual. Despite its weight, compared to a Superbike or a Superstock bike, this one seems lighter.
It more closely resembles…?
"I think in terms of motor and braking response, it is similar to a 2-stroke. It doesn't vibrate like a 4-stroke and you don't hear any mechanical roughness. It seems similar to a 2-stroke. In terms of output and power, it is similar to a Moto2.
Marquez already said that he doesn't like it. Would Rossi like it?
"As we know, from next year there will be a MotoE class, but it still is neither clear nor certain when the combustion engines will be banned. It is very likely, but it will still take a long time. Valentino Rossi, who has ridden and won with everything, will not manage to race with the MotoE bike, unless he decided to race until he's 50… talented riders like him and Marc could make the difference on the MotoE bike, just like they do with the other bikes."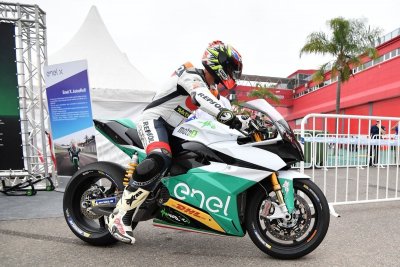 Changed out of his leathers, Sebastian then talked about the Grand Prix race. In a mad MotoGP race, won by Cal Crutchlow, Rossi and Marquez ended up stealing the show, for better and for worse. Seb, knowing the Argentinian fans, managed to interpret all of the emotions felt by those in attendance at the circuit.
"It was a crazy race – he does not hesitate to confirm – I have never seen a situation like it. From the start, the only one in the right was Jack Miller, thanks to the right tyre choice."
Penalties, collisions and fights – Termas had it all. Even for someone who still has the instinct of a racer in his DNA, it isn't a simple thing to speak up for or against one or the other.
"Back in my day, certain episodes rarely occurred – he specifies – Now, on the other hand, you see them more often. In any case, I don't understand why Marquez acted like that: he was so much faster than the others that he didn't need to risk certain manoeuvres."
You were there. Didn't it remind you of the collision between Capirossi and Harada in Buenos Aires in 1998?
"I wouldn't know if Loris and Marc did it on purpose, although I don't think so. The two Aprilia riders were battling for the Championship title and it was the last scheduled round… in short, compared to Sunday, the situation was different. I think that Marquez was too worked up after what happened at the start. From there on, chaos ensued: he hit not only Espargaró, but Valentino too. It had to be Valentino. Everyone knows that Rossi is considered 'untouchable', so their contact set off a bomb that seemed to have been defused by now. Instead…"