Team Pramac issued a note defending their rider, Danilo Petrucci who, after the race in Argentina, had been accused by Aleix Espargaró for a collision that was too hard. The team decided to make a statement with the following clarifications:
"The contact between Danilo Petrucci and Aleix Espargaró did not cause any consequences for the continuation of the race of both riders but is nonetheless being considered in the same way as the contact that saw Johann Zarco and Marc Marquez oust Dani Pedrosa and Valentino Rossi from the race".

"Danilo Petrucci himself was touched by Syahrin on the last lap, having to widen his trajectory and allow Andrea Iannone to pass. In the hope that these reflections can be shared or analyzed by the same media, we give all our fans an appointment in Austin with the commitment to continue to give Danilo Petrucci and Jack Miller the great emotions felt during the first two weekends of the 2018 MotoGP season".
Aleix Espargaró responded to the team immediately on Twitter: "Hahahaha he hit me harder than Marquez did! Bullsh**! The picture is there, dont lie everybody! Petrucci is ALWAYS riding like this!".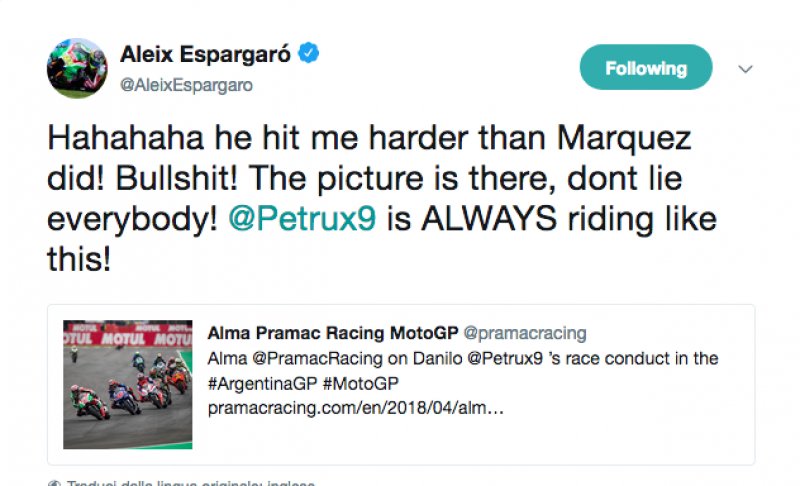 Riportando le considerazioni del team Pramac e diEspargarò , ci permettiamo di ricordare come anche in questo caso la Direzione Gara abbia dimostrato la sua latitanza non fornendo nessun giudizio sull'episodio. Giustamente piloti e squadre esprimono la loro opinione sui fatti, ma la Direzione Gara avrebbe il dovere di dirimere la questione invece di fare finta di nulla.