We should be talking about Bezzecchi's first career in in Moto3, one which he scored with confidence and maturity. Or that of Pasini in Moto2, who now leads the championship. Or about Miller's aversion to rain tyres, one which earned him pole position and a place, all alone, on the grid. Or about Crutchlow, the MotoGP leading after having won in Argentina. And then there's Rins, who scored his first, and definitely not last podium in the reigning class.

Back to reality though and, whether we like it or now, sport took a back seat at Termas de Rio Hondo, and pretending that was not the case will not solve anything. So we need to talk about an absent Race Direction, always ready to take action after the damage is done. About overtaking that exceeds the limits of the regulation and, of course, about the scuffle between Marquez and Rossi.
One thing is certain: whatever is said, someone will always be ready to claim it's wrong

The horizon is grey and not only in Argentina.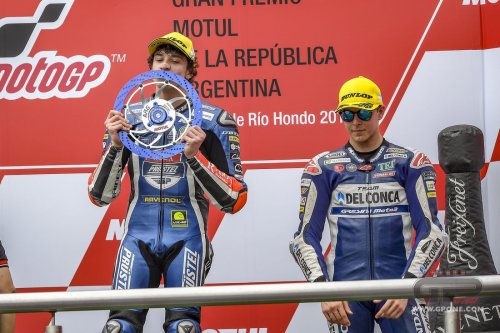 THE GOOD – Bezzecchi has the smile of one who's dream has come true, Pasini that of a man who is enjoying the fruits of his labour. Marco and Mattia have different stories, but they shared a special moment in Argentina. Despite the controversy, motorcycling was also able to excite for the right reasons at Termas de Rio Hondo.
THE UGLY–  How not to win a race in three easy moves: first, manouever on the grid as if you're parking a SUV in town, then test your rivals' patience by hitting their fairings, lastly, knock down the only rider that, for logical reasons, it's best to avoid. Marc Marquez put this entire manual into practice over 24 laps, turning what should have been an easy victory into a descent into hell. The Spaniard has to accept some of the blame, but there are those who did even worse.
THE BAD – History repeats itself, first as tragedy, then as farce. German philosopher Karl Marx couldn't have known that MotoGP and race direction would confirm his theory. The judges are there to judge based on law and when this doesn't happen the whole castle collapses.

The regulation is clear: if a bike switches off on the grid, the rider should remain where he is, raise his arm and wait for the marshals to intervene, without delaying the procedure with his actions. Simply put, Marquez shouldn't be allowed to do whatever he wants.
Then, the law should be the same for everyone. Marquez acted incorrectly in some of his attacks, but so did Zarco with Pedrosa and Petrucci with Aleix (again). Instead there is a laxness that complicates every action, a fear of being right. There's no point complaining that it's raining indoors if you're going to continue removing tiles from the roof
THE DISAPPOINTMENT - One point in two races. Thursday was spent complaining about Dovizioso, then on track he was unable to find the way out of what is becoming an increasingly dark tunnel. The relationship between Jorge Lorenzo and Ducati is crumbling and they need to see whether there's any desire to rebuild. Time ticks on, in vain.
THE CONFIRMATION  – Spring has seen Alex Rins blossom with the Suzuki. The Spaniard did well to put the GSX-RR on the podium and Brivio would do well to reconfirm him, while Iannone needs to rise up to his team-mate's levels.
THE MISTAKE – slick tyres and a damp track were not the best combination. Jorge Martin soon realised this, his timing wrong, rather than his choice. as championship leader he paid dearly for his error.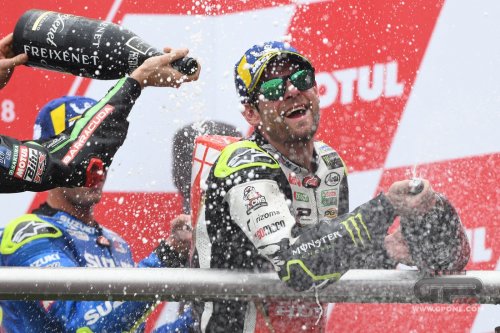 THE SURPRISE  – Cal Crutchlow from Coventry, with the official Honda but that of satellite team LCR, now leads the championship. The British bookies would have paid gold for such a bet. Fortune helps the brave, a quality that both Cal and Miller share,  the latter responsible for another of the weekend's happy stories. People say they're crazy, but normality is boring and we're glad they're here to entertain us.
THE PASS – Nothing else can match up to that between Marquez and Rossi. Not even that between Zarco and Pedrosa, with the Spaniard knocked to the ground. What are all the videos in race direction for if no-one watches them?
THE INTERESTING FACT – On Saturday, Miller, Vierge and Arbolino celebrated pole position, for all of them.
I TOLD YOU SO– Crutchlow: "More anti-doping controls are needed." Are we sure he's referring to other riders?
Share