During the second timed practice in Buriram, Swiss rider Randy Krummenacher fought back, clearly demonstrating to Mahias that come Sunday he has every intention of battling hard for the win.
First place for the Evan Bros rider then, on a competitive Yamaha R6: his best of 1'37"503 is just a fraction off Kenan Sofuoglu's track record with the Kawasaki Ninja. In the combined standings, Randy is second but with a pace almost identical to that of his closest rival.
Lucas Mahias had to 'settle' for second this time, but nevertheless retains first in the overall standings, with the pace having similar speed on the flying lap. Superpole is still to come and it looks like we're in for an exciting battle.
Federico Caricasulo is also aiming for the top, knowing that he's in with a good chance of winning. Third right now, he's less than two tenths from Krummenacher. "Carica" qualifies for Superpole 2 and prepares his plan of attack for the race.
Fourth for Julies Cluzel on the team Nerds' Yamaha: - he too will fight for the podium come Sunday, once he's dealt with Superpole 2 of course.
Anthony West is also champing at the bit and all set for battle: he too enters Superpole2, having set the fifth fastest time with his Kawasaki Ninja.
Japanese rider Okubo and Italians Cortese and De Rosa also make it through to Superpole2, as do Stapleford and Warokorn who round out the top ten.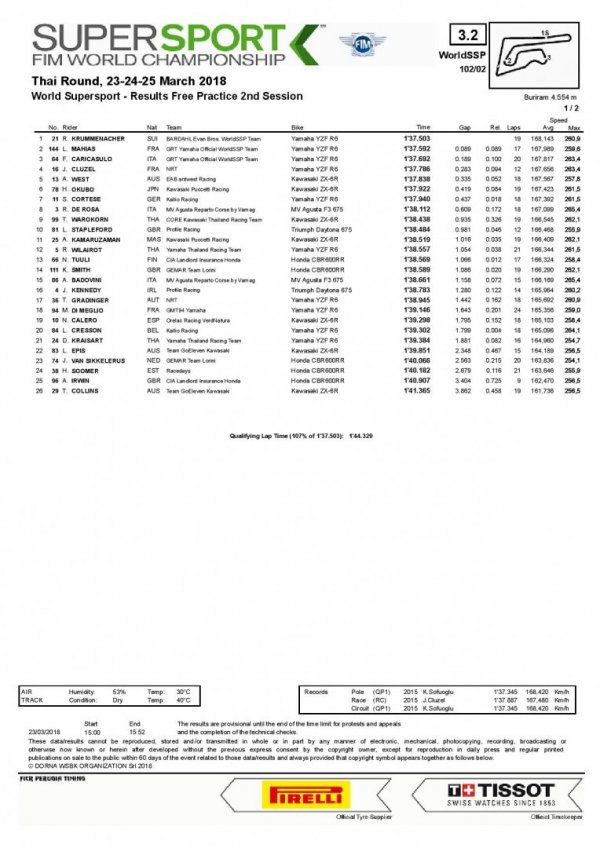 Share