The season is yet to start but for MotoGP, 2018 is already a record year. At least according to the stats regarding the 24 riders who will form the race grid come Sunday, the most titled line-up in championship history.
12 of the riders have in fact one at least one world title, as was the case in 2015 too, but the total number of titles now reaches 32, a new record.
Then 9 riders have won at least one Grand Prix in the reigning class and if we combine these wins we have a total of 215 victories. If we consider all three categories, 21 of the riders have won races, for a total of 461 victories.
If we look at age, Valentino Rossi is of course the oldest, having turned 39 one month ago. The Doctor has also won the most races (and titles): 115 GPs won, followed by Lorenzo on 65 and Marquez with 61.
The youngest rider is Alex Rins, who come Sunday will be 22 years and 101 days old.
One last interesting fact: on Sunday Dani Pedrosa will celebrate his 200th Grand Prix race start. The only riders to have done more are Rossi (305), Alex Barros (245), Nicky Hayden (218) and Loris Capirossi (217). Among those currently riding, Andrea Dovizioso places 8th in this particular classification, with 178 MotoGP races, ahead of Jorge Lorenzo (174).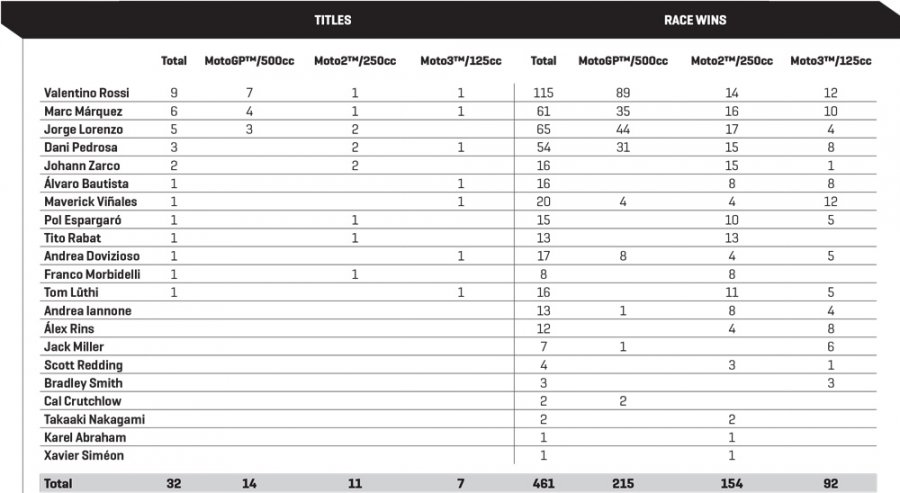 Share