First sun, followed by rain, then sun and finally more rain. A disappointing final test at Jerez for the Moto2 riders. The weather sent Thursday's plans up in smoke, forcing teams to work in the wet conditions and focus on long runs on the soaked track.
In the few minutes that the track was dry, Fabio Quartaro set the quickest lap of the day, in a time of 1'45"174. Almost four seconds slower than that recorded by Sam Lowes yesterday. As for today, the Italian was followed by the Dominique Aegerter on the KTM and then team Forward rider Eric Granado, both more than two seconds back.
Several Italian feature in the top ten, Federico Fuligni and Simone Corsi, fifth and sixth respectively, and Romano Fenati in eighth place. A total of 21 riders rode out of the 30 present, with no Mir of course, having injured his right arm while riding his MX bike.
If we want to draw any conclusions from this three-day test, it's better to consider Wedneday's result, with Sam Lowes proving to be the best of the group. The Brit, riding the KTM, preceded Lecuona and Binder, the latter setting the same time as Bagnaia. Romano Fenati closes seventh, only half a second from the front, proving to be the fastest of the rookies.
Material will now be shipped to Losail, in preparation for the season-opener, taking place in ten days' time.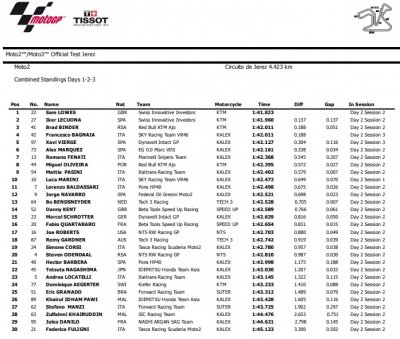 Share