The tests in Jerez could not have started any better for Francesco Bagnaia. In the last event before the season opener, the Sky Racing Team rider once again played the part of protagonist, beating out all the rest with a time of 1'42"433. The Italian's performance is about eight tenths slower than the time he did twenty days ago, but we should point out that the weather conditions today were not the best.
In fact, in the afternoon the temperature dropped to thirteen degrees Celsius, while the wind sent the third session up in smoke, so much that teams and riders stayed in their respective garages. Getting back to the times, if Bagnaia represents a confirmation, the surprise of Tuesday was undoubtedly Romano Fenati. The Italian rider did a textbook third time, the best of the rookies, just three tenths behind his compatriot (+0.332). The Snipers rider is therefore confirming his growth in Moto2 and today's time is a sign not to be underestimated.
Between the two Italians at the end of the day was Spaniard Iker Lecuona (+0.248), with Alex Marquez fourth (+0.347), called on to reckon with a gap of three and a half tenths behind the leader. The Marc VDS rider was therefore forced to play catch-up and the same was true for Miguel Oliveira, protagonist of the second part of last season. The Portuguese rider filed away his Tuesday with the eighth best time, just 38 thousandths behind Luca Marini, ahead of him in seventh place.
There was good news for Lorenzo Baldasarri who did the fifth best time of the day ahead of Xavi Vierge. Others playing catch-up, on the other hand, were Sam Lowes, forced to settle for the ninth place time more than half a second behind the leader (+0.568). Things went even worse for Hector Barberà, only thirteenth behind Mattia Pasini (+0.913), the latter having a day of ups and downs and finishing nine tenths behind the leader.
Andrea Locatelli and Stefano Manzi brought up the rear guard. Remember that Joan Mir is not participating in the three days at Jerez, out due to a sprained right arm after a motocross crash. We won't see the Moto 3 champion on the track until Losail. Tomorrow morning the green lights will go on at 11:20.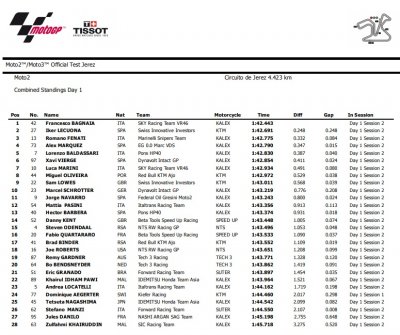 Share