In order to avoid any misunderstandings or changes in schedule - already seen at Losail - they decided to artificially soak the Qatar track to simulate a wet GP.
It rarely rains in these parts but, if it were to do so over the race weekend, the official schedule would be seriously affected, with missed sessions and TV scheduling issues. Without forgetting the cancelled flights for those who had planned to return home. This already occurred in 2009 when the MotoGP race was finally run on Monday, while last year rain again caused havoc, leading to the cancellation and delaying of sessions.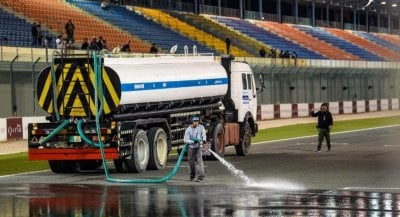 Is it truly impossible to race at night in the rain under the floodlights in Qatar? Would the riders be confused or distracted by the reflections of the lights on the puddles of water?
After today's test, some of the MotoGP riders voice their varying opinions, starting with current world champ Marc Marquez: "I think it's OK, though it's a little difficult to see the kerbs and white lines, visibility isn't the same due to the lights. Even though the asphalt was slippery, I think we can race if it were to rain".
And what does the vice-champion think? Dovizioso, as usual, leaves nothing to chance: "I made an agreement with Petrucci. We went out on track together, taking turns to lead. There wasn't much water, the lap went well, but the situation was critical along the straight. It depends on how much water there is on track, if there were a lot, the situation might become complicated".
Over to Petrucci then: "I tried to follow Andrea but in certain points of the track I couldn't see him. There was a lot of water, we'd need to understand if we could race, because in some sections you couldn't see anything".
Cal Crutchlow, as a true Brit, loves racing in the rain but has this to say: "visibility was good, but the track was really slippery. I'm sure that if it rains we'll need to discuss it in the Safety Commission".
Karel Abraham rides a privateer Ducati and always performs well in the wet: "grip was better than I expected, but it's true that visibility wasn't the best, there were a lot of reflections that were distracting".
Jorge Lorenzo has never loved the rain: "it's not a fantastic situation, the grip is poor, especially along the straight. I rode alone, so I don't know what visibility would be like during a battle. We'll need to see what's decided, I think it would be hard to race in the rain".
And now for the most laid-back comment of all... it seems that Jack Miller wouldn't be too bothered if it were wet: "well, the rain would clean the track of all that desert sand. I think we can race in the wet. I have to say that I didn't ride much, I wanted my mechanics to be able to clean the bike, so we wouldn't run too late. Tomorrow we have an early flight, it's better to get to bed and rest up".
It can't rain forever as they say... And if it proves impossible to rain in Qatar in the rain, they will just have to race on Monday.
And if it were to rain on Monday too?