The first round of the season is always a little different, with surprises around every corner and a little more time needed when it comes to carrying out that all-important fine tuning ahead of the race. In the Aruba Ducati camp, day one has brought positives and negatives: Marco Melandri and Chaz Davies' positions, sixth and ninth in the combined standings, are not outstanding but both riders are feeling optimistic.
During FP2, the Italian worked on the balance of his Panigale to improve stability along the straight, before focusing on tyre consumption in FP3, the session in which conditions were closest to what they riders will face in the race. "Today was positive, despite the erratic weather. I like this track a lot, and it suits our bike. I feel in great shape and, together with the team, we worked with more ease, given the year of experience under our belts."
Sensations appear to be proving that the team is moving in the right direction. The Italian is also thinking about his tactics for Saturday. The Panigale R has improved since the tests. Tomorrow, it'll be crucial to ride a fast lap in Superpole and then find a pace that allows us to manage the tyres better than the others. Many riders can be fast, but only a few will be competitive towards the end, once the tyres drop." 
On the other side of the garage, Chaz Davies is suffering a little more but doesn't feel demoralised: "Overall, it's been a positive day. The final lap times probably don't show the full picture here, and even though ninth position isn't exciting on paper, I feel happier than after the tests. We stepped forward a little bit despite the fact that we still have room for improvement."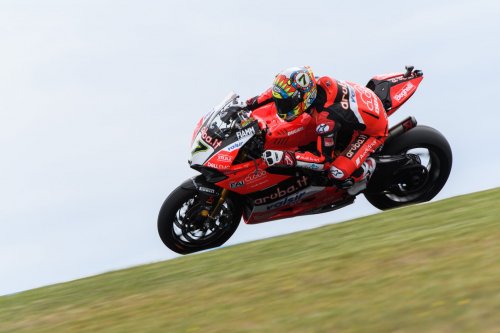 The Welshman is looking beyond the single lap time, and rightly so, while also reassuring his fans as to his physical condition.
"FP3 wasn't too smooth, we had a couple of issues that kept us in the garage for a while, but we're going in the right direction. Also, physically we seemed to have turned a corner. We're probably better off in a race situation than what we are on the time sheets."