Suzuki is beginning to rise again and the times of their two riders is a solid sign. Rins finished 7th today and Iannone 11th, but both share the same optimism. The GSX-RR is still not perfect, but it is growing, making us forget about the false moves from last year.
Andrea guarantees it, although he still needs to find the answer to an important question.
"In general, we are working very well and I am rather pleased with the way the bike is performing, especially with used tyres - he says - I maintained quite a good pace, but I am unable to improve when I put on new tyres. To the contrary, I go a few tenths slower."
It isn't a huge limit for a test, but it would be on a race weekend where a position earned on the starting grid can prove to be fundamental.
"It will be important to focus on this aspect and understand why it happens, also in view of qualifiers for the GP races - Iannone continues - I tried to do a time attack, but I slid because I lose the front end with new tyres. In fact, then I improved my time with the used tyres. I am unable to take advantage of that extra grip like the others do. That is what I am lacking to stay farther forward in the standings."
On the new aerodynamics, the Italian rider prefers to postpone judgment.
"I still haven't done a good comparison with the new fairing because we gave other things priority. I'm sure it will be on the schedule for tomorrow. The first approach was positive, but we need to confirm" he explains.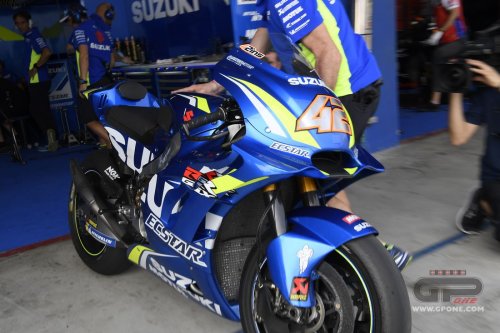 The sun was also shining on the other side of the garage for Alex Rins, who makes no attempt to conceal his satisfaction. "The truth is that we are on the right path. We are working hard and I tried a lot of upgrades. The engineers are working hard and I am giving it my all." After a rookie season complicated by injuries and other problems, the Spaniard can now look to the future with peace of mind.
"Maybe we'll arrive in Qatar with some chances of finishing on the podium. For now, we need to keep working - he goes out on a limb - I have more experience and in Malaysia we changed the bike a lot, so that helped me to be faster."
Unlike Andrea, Alex is certain of the benefits of the new aerodynamics.
"With the new fairing, I felt a lot of difference on the bike and it is positive. There is less of a tendency for wheelies and it helps in acceleration - he states - Already last year we had made progress on the aerodynamics, but we struggled in terms of top speed. This is better and it doesn't change the way the bike performs in turns."