Presented to the press just a few weeks ago (see our Valencia test HERE), the Ducati Panigale V4 1100 has already won the hearts and minds of countless speed-demons. A high-performance bike, the Bolognese 4-cylinder promises sparks this year, on both the track and the road. A bike that, due to the high performance of its Desmosedici Stradale, is designed particularly for track use and that aims to offer an even more thrilling experience. To satisfy this need, Termignoni is about to launch its new exhaust system, which it calls "4 uscite".

Previewed during the presentation of the 1100 that will make its track debut with Team Barni in the National Trophy this year, the brand new exhaust system is clearly very different to the standard production version. What immediately jumps out is the unique styling of the two banks of the Desmosedici Stradale, with manifolds that exit from almost straight rear cylinders and a silencer located under the tail.

Termignoni's Technical and Product Director Ernesto Marinelli explains the reasoning behind the new system: "The main goal is to offer the customer something different in terms of design, something outside the box, as per Termignoni tradition. We were inspired by Ducatis of the past (with systems that protruded from under the tail). But we should add that, with the definitive version, a few of the details may change in order to better integrate the parts in the rear section of the bike. But it will be 90% like this."
How was it developed?
"We have 4 exits. Each silencer has two internal tubes instead of one, so that with the same volume of sound-absorbent material, noise is more effectively curbed thanks to greater exposed surfaces. In addition, this type of configuration allows for a better trend in terms of internal fluid dynamics, to the benefit of performance."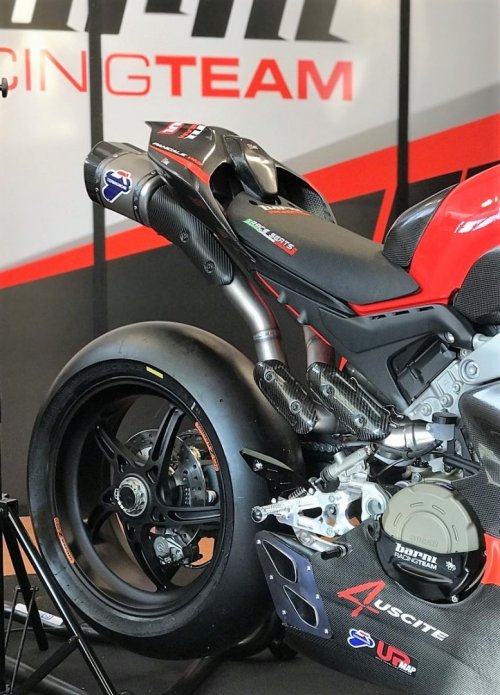 So what changes?

"With respect to the production exhaust, we have an additional 13 HP, with a increase in torque across the entire curve."

When will it be available on the market?

"During April, with two versions. As well as the design seen on the Barni bike, there is also a version that retraces the design of the original, with the 4 exits positioned low down. It will be available in steel and titanium, and full titanium. Both will be aimed at track-going customers and so will not be homologated for road use".

We will also see a system of this kind in SBK next year?
"It's too early to say. This is a product dedicated to sports users. As for SBK, we'll evaluate what to do at a later date. There are some design restrictions which would require an alternative solution. In this case we were aiming for stand-out style."