The new MotoE, the class reserved to electric bikes that will race alongside the MotoGP championship as of 2019, has been presented in Rome. This new category very much speaks Italian, in terms of both the bikes to be raced, built by Energica, and the main sponsor, ENEL.
First to take to the stage was FIM President Vito Ippolito: "we were the first Federation in the world to embark on a sustainability project, 25 years ago. Our work is to follow new technologies and a few years ago we started to speak with Dorna and consider how to introduce electric bikes into this world of ours. It has taken a great deal of work to reach this point ".
"I'm very proud - he continues - this is the beginning of a new era in our sport and we need to start out on the right foot".
Carmelo Ezpeleta, Dorna CEO, explained more about the workings behind the new World Cup.
"We started to talk about this possibility with FIM 6 or 7 years ago  - he states - We never considered it as a separate class to the MotoGP,  it needs to be a part of this world, also in terms of TV coverage".
It will run as a single-manufacturer series.
"We decided, in agreement with FIM and after various tests, to use just one type of bike, Energica.  We didn't want a technological escalation that would affect costs. We wanted a 'green' championship and for this we must thank ENEL for its collaboration ".
"Together with IRTA we have decided to entrust this bike to MotoGP satellite teams and some Moto2 teams": 18 riders and 7 MotoGP teams will compete, as well as 2 Moto2 or Moto3 teams. Between 2019 and 2021, it will run as a World Cup, while it may become a fully-fledged world championship in the future.
Francesco Starace, Enel CEO, underlined how electric mobility "is gaining ground and it is important to communicate this through sport. We are working to create the infrastructure for these new bikes, but communication is key. Starting with this world, we also want to show how it is possible to supply electric engine without the use of carbon, by supplying clean energy to the entire paddock for example".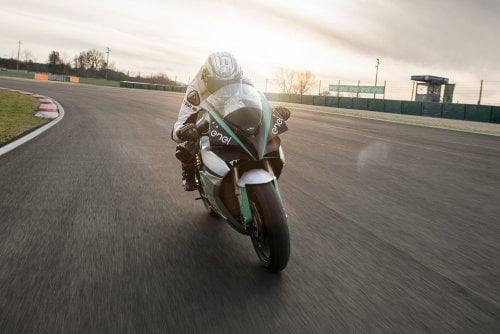 The star of the series also took to the stage, noiselessly of course. The Energica. A bike accredited with 147 HP and 200 Nm of torque, allowing the rider to go from 0 to 100 Km/h in 3 seconds and push to a top speed of 250 Km/h.
Loris Capirossi had this to say: "the sensations of this bike are different, I enjoyed it. I was surprised because the bikes are already fun to ride and this is only the start of development. the strangest thing is not having the gear level and clutch, it's heavy but you don't notice, it's an agile bike. Also delivery is... electric, something all riders ask for  - he jokes - It has incredible torque and you can really play with the power. We live in a chaotic world, sometimes it's nice to enjoy the silence".
Livia Cevolini, Energica CEO, spoke about the bike's creation: "in 2010 we decided to found the company for our products. We built a race bike first, and then a road bike. .We are working on the model that will be use d in the World Cup, with the aim of making it lighter and offering a real race bike".