Tuesday was a day to forget at Valencia, with bad weather ruining the plans of Moto2 and Moto3 teams. The wind and rain conditioned day one of testing to such an extent that garage doors remained lowered.
There was no point heading out on track and chasing lap times. Only four riders decided to take on the weather. In the Moto3 class, we saw Fabio Di Giannantonio riding in the wet with the Honda, completing eighteen laps, the fastest of which a 1'48"384. This was about ten seconds slower than Jorge Martin's pole lap in November During the second session, Phillip Oettl and Tatsuki Sasaki also headed out in the wet. The German completed eleven laps, setting a best of 1'56"930, four less than the Japanese SIC58 Squadra Corse rider, a second and a half behind.
As for Moto2, the only man on track was Swiss rider Dominique Aegerter. Twelve laps for him during the second session and fourteen during the afternoon session, during which he set a best of 1'51"344. While the Swiss rider was out on track, some of his rivals kicked a ball around the paddock. You've got to do something to pass the time after all.
One thing is certain: the teams at the Ricardo Tormo will not be pleased to have lost a full day's testing while the Marc VDS and Sky Racing Teams will be relieved that they are not taking part in this three-day test.
Tomorrow teams will return to the track at 9.30, with Moto3 opening the day's sessions, in the hope of better weather of course.
VALENCIA TEST - SCHEDULE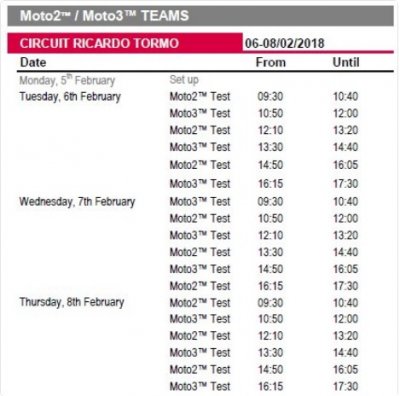 Share