The first tests of the year are always important when it comes to starting the season on the right foot, and Petrucci and Miller have done just that. Danilo has been able to test the new 2018 Ducati Desmosedici and, despite the odd unexpected issue, he likes the bike and was immediately able to find confidence with it.

Meanwhile Jack Miller continues his apprenticeship with the Ducati and gets to grips with what is a new team for him. Everything went well for the Australian at Sepang.

He, like Danilo, has been given full marks by his crew chief, with both technicians commenting on the Malaysian tests. Daniel Romagnoli gives Petrucci a solid 7.5.

"We have managed to do a good job by continuing the Ducati program. They were very important tests to discover the new bike - he explains - Then we focused on the set up even though perhaps we would have needed more laps with the Ducati Desmosedici Gp 2018. However, we had the opportunity to find functional details for Danilo".
What is the technician most pleased with?

"We found Danilo in excellent shape both from a mental and physical point of view. He arrived in Malaysia reinvigorated, with great motivations and a great desire to try the new bike. On a physical level, he was in great shape, having also lost a lot of weight. If he continues in this direction I think he can stay with the leading group"

As ever, there's always something that isn't quite working perfectly and on which the team will focus at the next tests.

"We still have something to do to make the most of his Ducati. In order to be faster, we have to work on some details. We have some difficulties in braking areas where we are still a little too aggressive and we have to improve on the opening of the throttle. Danilo is making great progress in this area too".

As for the work schedule at Buriram, a new track for everyone: "It's hard to predict even though I'm convinced that Thailand will be a good track for Ducati. I think that Danilo will immediately find himself at ease in a new circuit because among his great skills there is also the ability to improvise and be able to find himself at ease in new technical situations".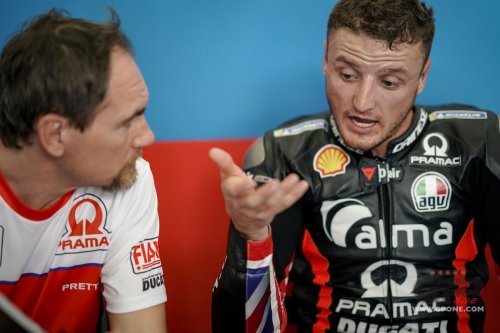 Cristhian Pupulin is even more pleased with Miller, giving him an 8.

"A very positive balance sheet - he comments -. We were able to achieve the goals we set ourselves, especially in terms of riding style. We still have room for improvement also because we suffered a little bit in the last laps of the long run with used tyres ".

The crew chief knows exactly what the positive were during the recent test.

"The thing I liked most about these tests is that Jack always goes on track to give 100%. This is important because it also allows us to use lap-time to evaluate the changes to be made on the bike. Jack always gives his best, without fear and enters the track always very concentrated".

At the same time, there are some aspects to continue to focus on.

"As I have already said, we still have to work a little bit on the race distance since the rear tyre wears a little too much. We still need to find something but we have taken a good step forward. Honestly we are not yet ready to be competitive until the chequered flag but we still have a lot of time ".

Pupulin is also trying to predict how Miller and the Ducati will get on in Thailand.

"I have good expectations because a talented rider like Jack normally tends to be fast on unknown tracks. He might have something more than others and his natural talent could allow him to understand a new track with less difficulty. And then Ducati, thanks to its electronics, is a bike that always gives something more in these conditions ".