Simply open a paper of browse the pages of a website and you'll see just what a fuss Liberty Media's decision to ban grid girls is creating.
Editorials may outline the pros and cons but more often than not it is the men who are doing the talking. So what do the women - those directly affected by the decision - think about this change?
One of the first to speak up was Amy Dargan. You'll probably know her if you follow MotoGP. She's a journalist working for Dorna, the championship organiser, interviewing riders after sessions and races. What you perhaps don't know however is that she worked as a grid girl up until a few years ago.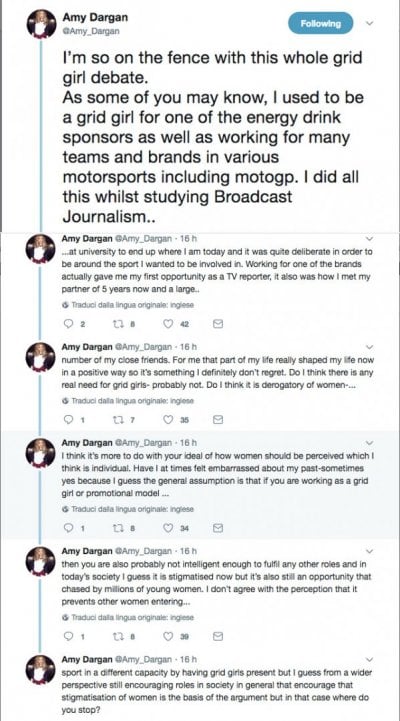 "I' m so on the fence with this whole grid girl debate - she wrote on Twitter - As some of you know, I used to be a grid girl as well as working for many teams and brands in various motorsports, including MotoGP. I did all this while studying broadcast journalism at university. Working for one of the brands actually gave me my first opportunity as a reporter, it was also how I met my partner of five years now and a large number of my close friends. For me that part of my life really shaped my life now in a positive way and it's something I definitely don't regret".
Dargan got right to the heart of the matter, because problems are only solved if we face up to them. Questions needs to be asked and an answer needs to be found.
"Do I think there is any real need for grid girls? Probably not. Do I think it is derogatory to women?  I think it has more to do with your ideal as to how women should be perceived. Have I sometimes felt embarrassed about my past? Yes, because I guess the general assumption is that if you are working as a grid girl or promotional model then you are probably not intelligent enough to fulfil any other roles. I guess it is stigmatised but it's also an opportunity that millions of girls chase. I don't agree with the perception that it prevents other women entering sport in a different capacity. But I guess from a wider perspective, it is still encouraging certain roles for women in society that lead to the stigmatisation of women, but in that case where do you stop?".
Penny Sturgess, F1 and MotoGP grid girl for years as well as Scott Redding's ex, also joined in on Facebook. She has a very different point of view, but the conclusion is similar.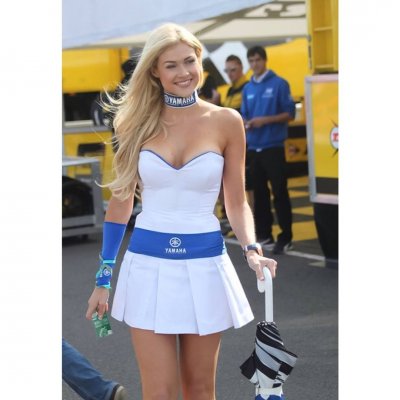 "What happened to freedom of choice?" she asks.
"Not only have I made some incredible friends along the way but I've thoroughly enjoyed my experience as a grid and promo girl. I had the pleasure to Grid at the F1 for a few years in my early 20s and not once did I feel belittled or objectified. Our outfits were always classy.... one year even a skirt suit... something many women wear to the office. Yes motorsport is male dominated but I can safely say some of my closest male friends come from the industry, I feel respected and appreciated and hold these people dearly. We are a little family and however dysfunctional it can be at times it's a place I feel at home, fills me with confidence and I look forward to each year. I have several "work dads" that I have learnt so much from over the years and feel truly lucky to have met. They have been incredible role models to me as a young woman and probably don't realise quite how special they are."
"While I no longer grid in my 30s, it saddens me to watch first hand my friends lose their jobs, their income and their choice. The world has gone mad... it's sad to think some of the experiences I've been lucky enough to have in my 20s other girls won't have. Young woman struggle massively with confidence and finding themselves, and motorsport really helped to shape the person I am today, my experience has only been a positive one."