By hiring Colombian Yonny Hernandez, team Pedercini brings a decidely exotic personality to World Superbike - considering the British dominion in recent years - and one with a dazzling smile and spectacular riding style, developed as a result of MX and supermotard.
In the meantime, the departure of Jonas Folger leaves a spot vacant in MotoGP, with the Tech3 Yamaha team; rumours suggest it may well be the Colombian who rides the M1 at the Sepang test in a few days' time. Even if: "right now, I can't comment - states Yonny- firstly, I'm really sorry for Jonas, it's not nice to find out that a colleague is pulling out due to his health. I really hope he can be back on a bike soon" and he continues: "my commitment this season lies in Superbike, with team Pedercini, I'm focusing on this new adventure now".
Having skirted the issues, Yonny smiles and clarifies: "of course, as a rider, I have had another opportunity to return to MotoGP, I'd accept it - adds #68- my years in the top class were great and important for my career, so if I had the chance to race there again, I would. Now, though, I have to focus on my next goal: I'm very excited and motivated, I want to enter Superbike to do well. Team Pedercini is a very valid and competent squad with the Ninja - I already tested it at Jerez and liked it. I need time and to get some miles under my belt of course, but I could immediately see that the Kawasaki ZX10RR is a competitive bike with great potential".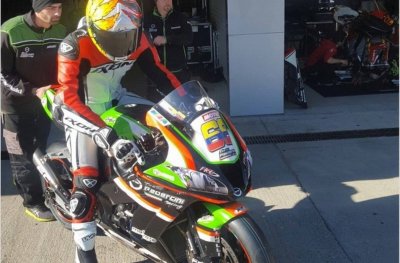 Is it harder to ride a MotoGP or a Superbike?
"It's honestly difficult to compare a MotoGP to a Superbike. Everything changes between the prototypes and the production-derived bikes - the tyres, brakes, electronics, different frame regulations, all this calls for two different riding styles. I think it's impossible to say whether one is easier than the other, they are incomparable".
This is not just a new bike for you…
"As well as learning about the behaviour and the reactions of my Ninja, I'll also be able to see what the atmosphere is like in the category. I'll have new rivals and tracks that I've never raced at. One thing is sure, that I'll be on the gas, as I've always done throughout my career. After a brief acclimatization period, I'l start to push, doing a good job with the team and battling my rivals".
Rivals who include a certain Jonathan Rea…
"Johnny is an incredibly strong rider, a true champion. He's won 3 consecutive titles in Superbike and not by chance. He has enormous talent and rides for a factory team, with a bike that receives direct support from Japan. The Provec team's level is very high".
Share