2018 starts now for team Pedercini. The official presentation of bike and team took place yesterday at the Motor Bike Expo in Verona, with new arrival Yonny Hernandez, former GP and Moto2 rider, taking centre stage.
The bike is the same, but has evolved and the 2018 version of the Kawasaki Ninja ZX10RR also boasts a brand new livery. The team continues to collaborate with the Japanese manufacturer's European branch, having achieved some positive results over the years.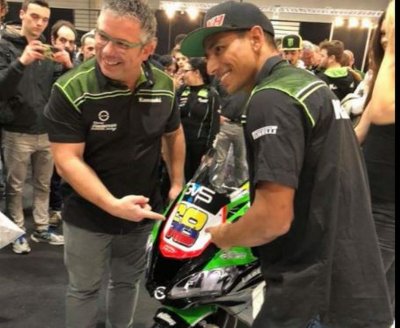 After a 2017 that saw the arrival of various riders, the team now seeks continuity: "last year, for various reasons, we were forced to change more than once - states team manager Lucio- but now we're looking to 2018, a year in which we want to be more competitive than we've been in the recent past. This is why we've taken Hernandez".
What struck you about Yonny?
"Everything. As a former rider myself, I could immediately see his strengths, both technically and race-wise. In the short Jerez test, he impressed both me and the team. we have a real professional and, seeing him ride, I know that he really knows how to give it full gas".
With a rider like this, what's your goal in 2018?
"We have a really competitive bike, similar to that of the factory riders. It's too soon to make any predictions but I'm sure of one thing - we can fight for top five, particularly in wet races".
You're not worried by the rumours that Hernandez might test the Tech3 Yamaha?
"No, I think it would be a positive thing for him. It's also true that the contract made between Yonny and the team doesn't foresee it, anyone, I don't think it would be problem if he decides to test it or even return to MotoGP. I have a second card up my sleeve".
What's its name?
"I can't say yet (he laughs)".