He climbed on his bike with just one goal in mind, or rather to avoid even the slightest risk. Matthias Walkner put on a triuphant display during the final stage of the Dakar, which involved the Cordoba loop, 119km in length. The Austrian settled for eighth place, enough to enter the RAID's history books and score what is the seventeenth consecutive win for KTM.
Alessandro Botturi turned out to be right, having named Walkner as the favourite early on. The KTM rider got the job done and celebrated his achievement in Argentina. A result that essentially came down to Wednesday's stage, when the rider calculated the route perfectly, building a significant advantage over his rivals that made the difference.
Kevin Benavides (+16'53") won the final special but was playing catch-up from mid-week until the race's end. The Honda rider thus settles for the runner-up spot, ahead of Toby Price (+23'01"). A memorable result for the Australian, who returned after fracturing his femur last year, building confidence day after day to reach the podum.
His team-mate Antoine Meo closed in fourth place (+47'28"), followed by a surprising Gerard Farres, one of the revelations of this year's edition and fifth in the standings. And what about Frenchman Johnny Aubert, powering his Gas Gas to finish ahead of Pablo Quintanilla (+2:24'56"), eighth. The South African can only console himself with being the top Husqvarna finisher, while Laia Sanz closed twelfth.    
As for the Italians, Jacopo Cerutti did the best, finishing in 20th place with his Husqvarna. Maurizio Gerini finished two places further back, at the end of what is his first appearance in the RAID.
FINAL CLASSIFICATION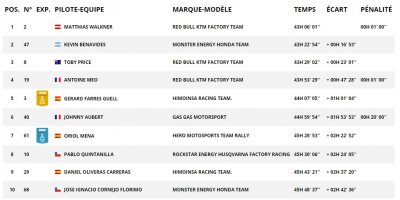 Share