It was one of the most highly anticipated stages, running from Fiambalà to San Juan. But race direction has decided to cancel it due to the fact that the terrain is in an unsafe condition for the bikes and quads.
The original plan was to let both categories start after the trucks, but this was considered too much of a gamble and in the end, the decision was taken to cancel the stage altogether. Fans are left disappointed, as this has proved to be one of the most significant stages of the Dakar in recent years.
That's not all either, as tomorrow's special, from San Juan to Cordoba, originally set to be 423 km in length, has been shortened by 55 km. This is due to erosion of the terrain after an accumulation of water and mud in recent days. The race will conclude on Saturday, with the Cordoba loop. A special which is something of a catwalk and one that could see Matthias Walkner lifting the trophy already tomorrow evening. We'll see what happens, bearing in mind that the Dakar is never short on drama. 
CLASSIFICATION AFTER STAGE 11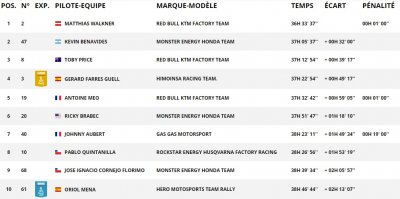 Share