Nothing is a given at the Dakar and Sam Sunderland's crash, just a few kilometres from the end of yesterday's route, is proof of that. A black Tuesday for the KTM rider who is forced to wave the white flag, losing the race lead in the process. A tough blow for the man who dreamed of scoring a memorable double in South America.
Taking up his rival's baton is Adrien Van Beveren. In the San Juan de Marcona stage, 444 km in length, the rider gives Yamaha its first confirmation in this year's edition of the RAID. The Frenchman set the best overall time of 4 hours 8 minutes and 23 seconds and moves into the lead. While KTM is left disappointed, Yamaha smiles because the Japanese bike also closes in second place, with rider Xavier De Soultrait (+5'01"), who moves up into fifth overall.
Also profiting from Sunderland's exit is Pablo Quintanilla (+1'55"). The Husqvarna rider, thanks to his fourth fastest time today, moves up into second behind Van Beveren in the general standings, separated from the leader by less than two minutes. In third place is the first of the Hondas, or rather that of Kevin Benavides (+3'15"), followed by the KTM of Matthias Walkner (+5'23").
It's interesting to note how four different bikes occupy the top four places. The battle is open to any kind of result. And we shouldn't rule out Toby Price either, currently sixth in the general standings (+10'14") after setting the fourteenth best time of the day. The Australian returns to the competitions after last year's bad accident and is displaying great determination, running ahead of the Honda of young José Corneio, called in to replace injured Goncalves, and the Yamaha of Franco Caimi.
A day of ups and downs for Joan Barreda. The Spaniard appeared to struggle in the final stages, ten minutes behind at the end of the special which ruled him out of the top ten. As for the Italians, Alessandro Botturi takes a step forward, moving into 20th place in the general standings behind Laia Sanz. In today's stage, the Italian closed 23rd, ahead of American Brabec who was lying fourth overall until yesterday.
Tomorrow will see stage five play out from San Juan de Marcona to Arequipa, a 770 km stretch of which 264 is SS.   
CLASSIFICATION AFTER STAGE 4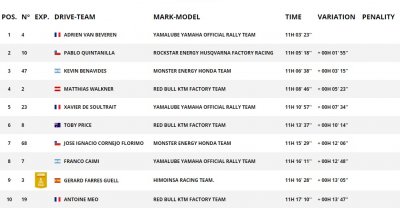 Share