They share the same initials and are just 22 months apart in age. Andrea and Angelo are the two Iannones of MotoGP. The first is well-known and so needs no introduction, while the second is his brother, as well as his shadow. In the paddock you'll always find them together, a relationship that goes beyond genetics or work.
And to think that Angelo actually started riding before Andrea, "due to our ages - he laughs - I raced mini bikes, I won a few regional championships and finished 5th in the Italian series. I raced against guys like Dovizioso, Simoncelli, Pasini, I wasn't bad but at 12 years old I decided to stop. What? We can say my heart wasn't in it. If I had to take at corner at 70 rather than 60, I'd think too much, while it came easy to Andrea. I realised it wasn't for me, even now he's too quick for me when we go karting" he jokes.
But, as the proverb goes, one door closed and another opened.
"I continued to attend all Andrea's races and started to give him a hand, little things, like prepping his helmet and his drinks - he says, lost in thought - The important thing was to be close to him, because me, Andrea and our dad Regalino have always shared this world. Today, just like back then, it's as if all there of us are on the bike when Andrea races".
Time has passed and Angelo now does a lot more than give his brother a hand at the track. Or rather "l still do that, but not only that  - he explains - I take care of the sponsors, contracts, I assist with the management of the merchandising and the fan club. My season runs from October to the following November".
But when the races are, he's back at Andrea's side, with a few superstitions.
"During the race, I always sit in the same place, on Andrea's chair, I never cross my left and always drink my half litre of water " he reveals with a smile.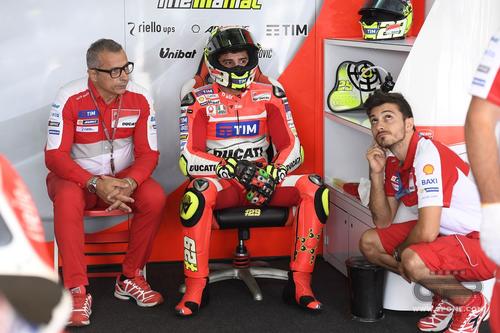 He suffers and rejoices watching his brother on track "When he wins it's down to all of us and when he loses, we all lose" he underlines.
A winning partnership, rather than brothers in arms.
"As kids we were always fighting, for pointless reasons, but we haven't done that for a long time now - continues Angelo - To be honest, sometimes we can tell each other to get lost 8 times in one day, but then by evening it's behind us and we eat dinner together. You know the problem? Andrea is always right, even when at first I think he's wrong. I have to admit that I've learned a lot from him, he's been like a launch pad for me. What he does on track motivates me and I try to repeat it in my work".
Having said that, it's Andrea who appears to be the "angel".
His best quality is that he is full of ideas, some might seem impossible but then you realise that with hard work they can be achieved - he explains - The great thing is that he involves you in his professionalism. In terms of defects, I can't be very objective, but in the past he's been a little too direct maybe, in the good and bad. It's a corner of his character that he's been able to round off in the last couple of years anyway".
Angelo knows Andrea extremely well and wants to underline his brother's growth.
"He gets up each morning with a goal to achieve and when he does that he moves the goalposts further away  - he explains - You saw him in 2015, when many said he was 'doing a Dovizioso'. He worked hard on himself to achieve what he wanted".
Now he's embarking on a new adventure, moving from Ducati to Suzuki.
"I don't need to repeat what Andrea's already said, he was very attached to Ducati, but I think he's made the best decision for himself - he comments - How has he been this winter? The same as ever, battle-ready and focused".
Andrea is changing colours, but not the man at his side. Who known whether we'll see Angelo on a bike one day…
"Every so often Andrea asks me if I want to test the MotoGP, sooner or later I'll have to accept his offer!" he laughs.
Share