Romano Fenati exited the Moto3 championship, through no fault of his own, on the eve of the Austrian Grand Prix. Sacked from the Sky-VR46 team while lying second in the standings.
His team didn't go easy on him but the Italian preferred to keep quiet, and prepare for the 2017 season, having signed with a team whose name is a show: Sniper. A homage to its founder, Giancarlo Cecchini who, together with his son Mirko, is the team's technical director.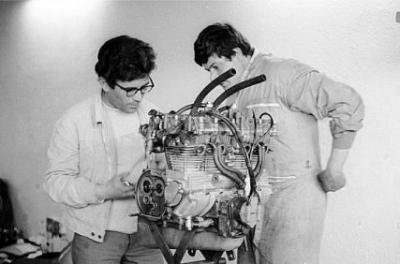 "With all due respect, he is the cornerstone of the team. When he speaks, you need to listen: your grandparents are always right", jokes Romano, well aware that Cecchini senior (in the photo alongside, with Renzo Pasolini) began working in what was once known as the Continental Circus in 1964, alongside champions like Renzo Pasolini and Mike Hailwood.
"After a very difficult period, of crisis, it was great to get back on the bike - continues Fenati, speaking with Corriere dello Sport, on sale today - I've been able to transform that experience into something positive, I've turned it in my favour. Things happen sometimes, perhaps it's destiny, but when one door closes sometimes a bigger door opens. With my former team, with Sky, I've had no further contact, but I was pleased to see Migno, my former team-mate and my former crew chief, Pietro Caprara. I've always considered respect to be the most important thing, also towards those considered enemies. It was a painful situation, but that's enough now, we're not thinking about it any more. A change? I can say that I've become more thick-skinned".
In terms of the title fight, Romano sees the 2017 championship as being something of an Italian affair.
"This year I think we'll have an Italian fight on our hands - Enea Bastianini is very strong, he's matured a lot and is with a great team. Then there's Di Giannantonio who ended the season on a high, and then we can't forget Nicolò Bulega who wants to win and will be a front runner, and Antonelli who's signed with team Ajo, perhaps the strongest in the championship".
In the meantime, as he awaits the chance to fight for 'his' title, the Italian takes a look at the reigning class.
"I'll be supporting Maverick Vinales this year. I think he's very strong and he immediately got on well with the Yamaha. He could be the surprise of 2017. Valentino will be motivated, having him on the team, and so he's also among the favourites. He'll be in the fight too".