After attending the spectacular wedding of friend and rival Chaz Davies - a celebration also attended by Australian Casey Stoner- Leon Camier is well aware that the winter break will be almost torturous for someone like him, who trains all year to stay in shape.
The tall and muscular British rider is already thinking about his next test on the new bike, having moved from MV Agusta to Honda: "I decided to change - explains Leon- because, despite the fact that Red Bull Ten Kate has had a really tough season, I could see that the Fireblade SP2 has great potential. There are good chances of improving the CBR's technical package and moving closer to the fastest bikes".
Camier has found a great atmosphere in the garage: "it was a difficult 2017 for them on all fronts and I understand that but I was welcomed into the garage in an enthusiastic, positive way. They are keen to make a comeback and immediately focused on the work we have to do, to give me a competitive bike. They have renewed motivation in Honda".
You were quick in Spain in fact…
"I immediately liked the Fireblade, I had great feeling, lapping with same times as Melandri on the Ducati and Lowes on the Yamaha. We know there's still a lot of work to do, particularly in terms of the electronics. At Jerez, I rode using the Cosworth system, not bad, but soon we'll have the new Marelli which, if well set up, can guarantee us a more consistent pace, in that loss of grip will be limited".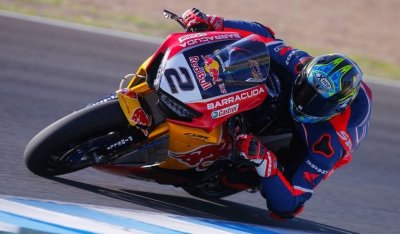 With the new bike, how do you view your rivals?
"Still the same (he laughs). I only came across Alex Lowes, but I looked at lap times - Melandri, who could have won the race at Jerez, was setting the same times as me.  Johnny Rea, with the Kawasaki, 'limited' by the new regulation, was incredible, putting everyone behind him and setting MotoGP times".
And yet they've turned the bike upside down for him…
"Yes, but little has changed. In fact the ZX10RR is even easier to ride now maybe, it's easier to exploit thank to its considerable torque, delivered and managed effectively by improved electronics. Rea's Kawasaki is still the best bike, the one to beat".
And Rea? Is he still the man to beat?
"I think that Johnny has done a fantastic job, winning three consecutive titles. Rea is a great rider, one of the strongest in Superbike, and he's deserved every trophy he's won until now, but I think that the point is the bike - the key to all the success is his Kawasaki Ninja".
You're now part of the Honda world - will you go to the Suzuka 8 Hours?
"They've already contacted me, asking me. The Japanese endurance race is tough but appealing, very important for Honda and the other Japanese manufacturers. If they offer me a factory bike and team, I'll be at Suzuka, also because I like racing there, despite the insane heat".
This would mean a direct link to HRC?
"Probably year, there will be more communication between the Ten Kate team and Japan and I could be the link. The first Honda mission will be the Suzuka 8 Hours, then there is MotoGP. Honda will  be more involved in Superbike, with important chassis updates and something for the engine. Communication between team Ten Kate and HRC is stronger now".
Could a path towards MotoGP open up for you?
"I don't know, but I can say that a satellite bike wouldn't really interest me. I want to do well with Honda in Superbike, reaching the podium already in the first races. My first impression of the CBR is that it has many positives and strengths. If we set up the bike well, working carefully on every technical detail, like the electronics and engine, it's not unreasonable to think about the podium already in Australia. I've come to Honda to win the Superbike title, this is my real goal".
Share