If not quite an army, it's at least a platoon. This is a good way to define the group of riders that make up the "Nolan Family", the Italian helmet company that, also with the X-Lite brand, follows and supports riders across the MotoGP and Superbike championships, obtaining exceptional results in the process.
From Giovanni Baggi of team Avio Bike, competing in the CIV and endurance series: "I'd never worn such a comfortable helmet before" to Ayrton Badovini, an MV Agusta rider in Supersport: "it's no coincidence that I've worn an X-Lite for years", and Leon Camier, the new Honda Red Bull rider in Superbike: "I always feel safe", and Alessandro Botturi, a star of the Dakar enduro: "where protecting your head is everything". These are just some of the comments of riders backed by the brand, all part of the family, where the professional and personal relationships mesh perfectly.
Alberto Vergani, who knows something about riders and racing, has seen a lot over 30 years of competition and to ask him for a quick anecdote means opening a book of intense memories, still very much alive, from which it's not easy to pick just one chapter: "you couldn't ask a less complicated question? jokes Alberto- it's not easy to sum up 30 years of such an intense history with just one anecdote or one single memory... I have so many tales, starting with Franco Uncini, who wore our helmet bearing the #1 of the 500 class, then Spaniards Sito Pons and Alberto Puig, two valuable riders and men with great personalities, And then the world titles won by Marco Melandri in 250 and Carlos Checa in Superbike with the Ducati. The arrival of talent Chaz Davies and the launch of some interesting young riders has completed our project, which continues to bring us great pleasure, both professionally and on a human level. Aside from the level of performance and safety that our helmets provide, the riders like us and this really motivates me and the company".
Alberto hasn't forgotten two particular riders with whom he won a great deal, on the contrary…
"The history of racing is made up of cycles and at a certain point, two really fast, special guys joined the team. Casey Stoner was a gamble when he arrived in Europe from Australia and he more than deserved his two MotoGP world titles. With the Australian and Jorge Lorenzo, for a time we had two real number ones of the MotoGP class".
Casey Stoner no longer races while Jorge Lorenzo has moved to another brand…
"As I said, the cycles change and you have to reinvent yourself. Losing Stoner was almost a crime: MotoGP misses Castey, he arrived in the championship like a rockstar, won it, did it again and then disappeared, leaving a big hole in the world of racing, because he had unique qualities, both human and as a racer. As for Lorenzo, I offered him a figure but he wanted double, so he left. This was the biggest 'no' I've ever received from a rider".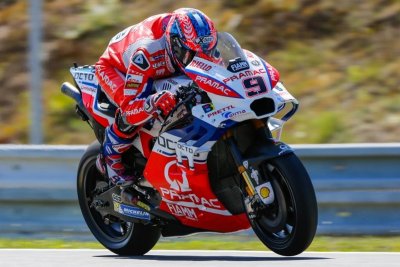 What are your goals for 2018?
"We at Nolan and X-Lite want to support each rider as well as possible, from Botturi in enduro to Mercado and Rins in MotoGP. We have two 'bets' in the world championship, both strong and talented guys: in Moto3 we have Enea Bastianini, a guy who hasn't yet shown his true potential. Enea has the potential to win the title and when he really emerges, he will be our winner in the future I also expect to see a stronger and more consistent Danilo Petrucci on the Ducati Pramac: I'm sure that Danilo can have a great season, because the goal, his and ours, is to win at least one MotoGP race".